Outstanding 3D College Coins from Coin USA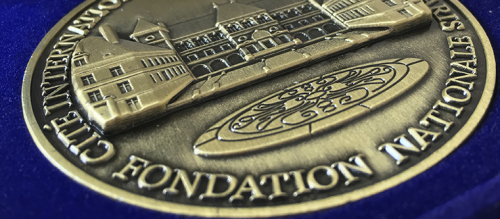 Commemorate your school with custom coins from Coin USA and get remarkable college coins! Our team is looking forward to working on your exact project!
College Coins for the University Citè Internationale Paris
As a professional coin minting service, we had been contacted by the European University. Our clients wanted us to produce beautiful 3D college coins that display the university building. This entire project was extremely detailed, and the results did not fail to impress. We consider this particular custom coin one of the most beautiful and detailed 3D coins that have ever been produced.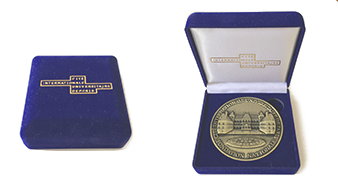 About the Custom School Coin:
The first feature of this stunning coin is its size: 70x4mm. The coin's dimensions, in combination with 3D embossing and an exquisite antique finish, highlight the detailed structure of the buildings and the texts that are placed on the college coins.
The 3D embossed text "CITÉ INTERNATIONALE UNIVERSITAIRE DE PARIS FONDATION NATIONALE" is placed around the university building as a kind of border. The reverse side of the college coins is blank. This allows placing it perfectly in the dark-blue velvet boxes. They were specially ordered for the ceremony to hand over the custom coins to their respective recipients.
Our specialists put the logo of the customers on the blue velvet box lid. We used a nice golden color for it. This individually designed box is a perfect example of how to hand over jubilee college coins and medals. Together, the custom coin and box will serve as a great reminder of this special day in the university's history.
Some Additional Details about the College Coins We Would Like to Share:
The customer has been extremely happy with the outcome of their project and has contacted us again to reproduce one of the college coins with some additional features, like 24K gold plating, and engraving.
This additional college coin is intended to be used to honor the visit of Mrs. Park Geun-Hye, President of South Korea. The visit should be a memorable and wonderful day at the university. We have emphasized this by plating the coin with 24K gold and making a detailed engraving on its reverse side. The timeframe for this project was very challenging. However, we are proud to say, that through great teamwork, we managed to complete these college coins after only three short weeks of intense work.
Considering the Purchase of Your Own Custom-Minted Coins?
If you've been thinking for a long time about having beautiful commemorative college coins, giving quality replica coins to a numismatist friend, or preparing unusual award coins for your festival's winners, you've come to the right place! Our minting company will be happy to help and advise you at every step of your cooperation with us. Order your custom coins today, and we will create something incredible for you! Contact us for details!
Disclaimer: Our products on this page are known as "Coins" in order to comply with general linguistic usage. It should be expressly pointed out that it concerns, however, individually embossed medals and no current or former means of payment/currency.