Do You Know How the Challenge Coin Tradition Started?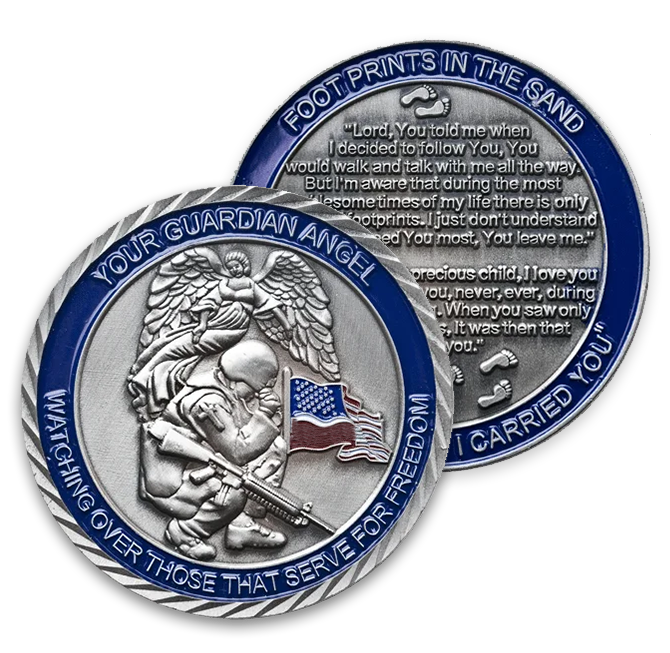 What is the Challenge Coin Tradition All About?
The tradition of exchanging coins between military units and fighters has been around for centuries. If you work for the military, police, or firefighter unit, you probably know what a challenge coin is. Challenge coins represent unit pride, boost morale, and reward hard work and excellence. There are many stories about the origin of this tradition, some dating back to World War I, others to the Vietnam War. Regardless of the romanticized version you come across, the coin is the star of the story, as a soldier can identify himself through it, even behind enemy lines.
The challenge coin reality is a little more straightforward. A member of the 11th Special Forces Group was the first to collect old coins and stamp them with his own design. In the early 1960s, a commander picked up this idea and became the first to mint a unique unit coin for the U.S. military. Over the next few years, more members of the military began minting their own coins. Today, almost all units proudly have their own unique challenge coin.
Fully Customized Challenge Coins of Outstanding Quality
Searching online you'll find hundreds of suppliers of challenge coins. The offer can be quite overwhelming. Here are the pros when choosing Coin-USA as the right challenge coin maker for your project:
We have over 20 years of experience in the coin industry
We mint, plate, enamel and engrave in our own coin production facility
We produce your coin blanks in house: You can order coins in standard sizes (1-3 inches) or any other size ranging from 0.2 inches to 10 inches
We are specialists in working with precious metals: Your custom challenge coins can be made from pure .999 Fine Silver, 24K Gold, Palladium or Platinum
You can choose between standard soft enamel coloring and high-end hard enamel colorization
You decide what border design your custom challenge coins should have
We even offer single coin production. All projects are valuable to us!
Still undecided? We offer sample sets from other coin projects for free
Our challenge coin artists' optimization of your artwork is included in the price
Your Account manager is a knowledgeable coin expert, able to smoothly guide you through the entire process
We have happy clients all around the world (US, UK, Germany, France, Spain, Italy, and many more)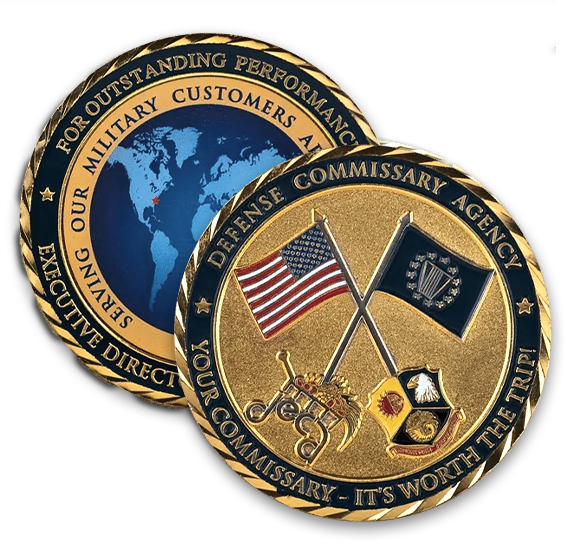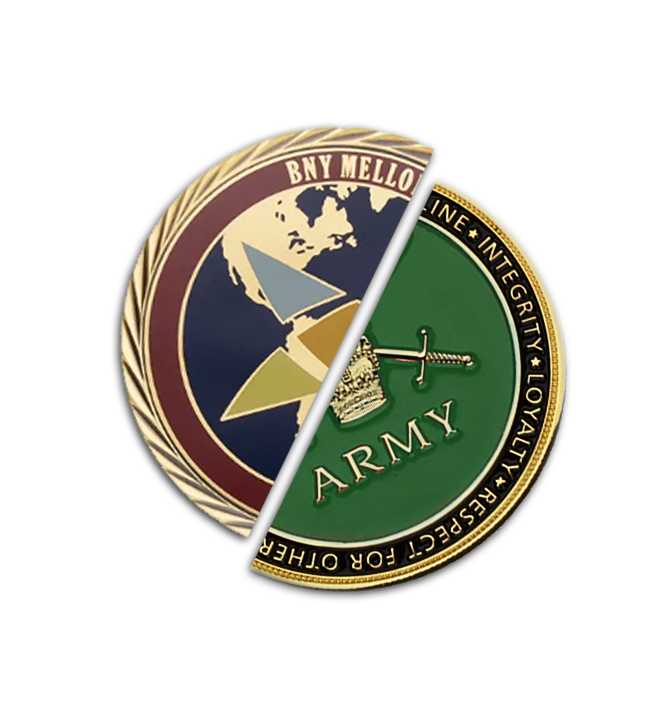 How Much Do Custom Challenge Coins Cost?
Prices for challenge coins vary depending on their customization. At Coin USA, we love to produce unit coins that stand out. Sure, we can mint standard coins at regular market price with a common design. A standard challenge coin like this could be made from Bronze with a 1.5 inch in diameter, in antique finish with soft enamel colors on both sides.
What our team of designers and craftsmen really enjoy is manufacturing truly unique challenge coins with your design - more than just an adaptation of standard coins. We mint your challenge coins in our own factory, with full control over their quality. Get your own coins in any size, high-end "hard enamel" colorization, choose precious metals, get a proof coin finish, and we offer high-quality packaging solutions.
Send us your inquiry, and we'll make sure to mint your challenge coins to stand out from the usual.
Steps to produce pure Gold and Silver coins
1. Design your coin
Using your unique custom design, our coin designers will transform your concept into a digital graphic. After your approval, this is transferred into a digital 3D model which, in turn, is used to produce the coin minting die. This is done with precision to ensure that every fine detail, lettering, lines or illustration can be actualised with the utmost accuracy on your finished product. Our cutter tools are able to reduce dies down to a tenth of a millimeter.
Since dies only withstand the heavy production processes for a limited time, several of these are made to guarantee that all coins meet our rigorous quality standards.
If a design, logo or theme is available, our coin designer creates a corresponding draft digitally on the screen. After the graphics have been approved, they are transferred into a digital 3D model, which is then used to produce the minting die. When machining the mould, precision is essential so that the very fine lettering, lines or graphics can later be transferred to the coin as accurately as possible. Cutter tools process the dies down to the tenth of a millimetre. Since they wear out relatively soon, several of them are made at the same time so that the coin production can go through in high quality.
3. Custom embossing of your coin
An individual and impeccably cut coin die is required for either side of your coins, the obverse and reverse. Once again, accuracy has priority over speed in this manufacturing step.
Therefore, the blanks are inserted into the minting machine manually, each single one checked individually. Any round that does not meet our standards goes back to the furnace, to be melted and cut again.
With a pressure of about 100 tons, the custom designs are mechanically embossed into the pure gold and fine silver rounds. Once again, every single minted coin is carefully checked, to guarantee that only flawless custom coins are sent out to our customers.
Due to the high pressure, custom coin dies have to be replaced at regular intervals in order to achieve irreproachable results consistently.
4. Finishing and packaging
According to individual wishes, the freshly minted coins can be further processed. Coin edges can either remain smooth or manually be adjusted to a certain angle. Moreover, the pure precious metal coins can be hallmarked or finalised with special laser engravings, such as consecutive serial numbers or name inscriptions, to only name the most popular examples.
Once the entire minting process is completed, the finished precious metal custom coins are safely packed up in high-quality coin capsules to protect their surface.
In addition, these acrylic cups can be placed in elegant coin boxes or floating frames to decoratively display the pure gold and silver custom coins with your individual design.
Watch our Video how a 24k Gold coin is minted in our Own production facility
What Makes Us Special as A Custom Challenge Coins Manufacturer?
Find Out What Other Suppliers Fail to Offer
1Choose Any Coin Size
Order standard sizes between 1-3 inches, or customize your coin size from 0.2 inches up to 10 inches.
Pick the size that best fits your design.
4We Keep Your Coin Mold For Future Runs
We'll store your coin mold for up to three years after production at no extra cost. If you need more coins within that time frame, just let us know.
After three years, we'll recycle the mold for new orders.
2Choose Between 2 Colorization Methods
We can color your coin with standard soft enamel or high-end hard enamel for a flush, smooth surface.
Let us know which version you prefer.
5Work with a Premium Producer
With 20 years of experience and our own mint factories in Europe and Asia, 100% owned by Coin USA, we're a trusted name in premium challenge coin manufacturing.
We guarantee the highest quality products.
3Get Free Challenge Coin Artwork
Our experienced design team can help bring your ideas to life. Send us your logos, texts, and concepts, and we'll create a custom artwork for free.
6Get Free Samples
See for yourself how amazing our coins are. Ask us for samples that are similar to your design, and we'll send them to you for free. Then you can decide if we're the right producer for you and how you'd like to have your coins made.
Design your coin
Online coin configurator
Upload your existing designs to our Coin Configurator or let our tool provide you with some inspiration.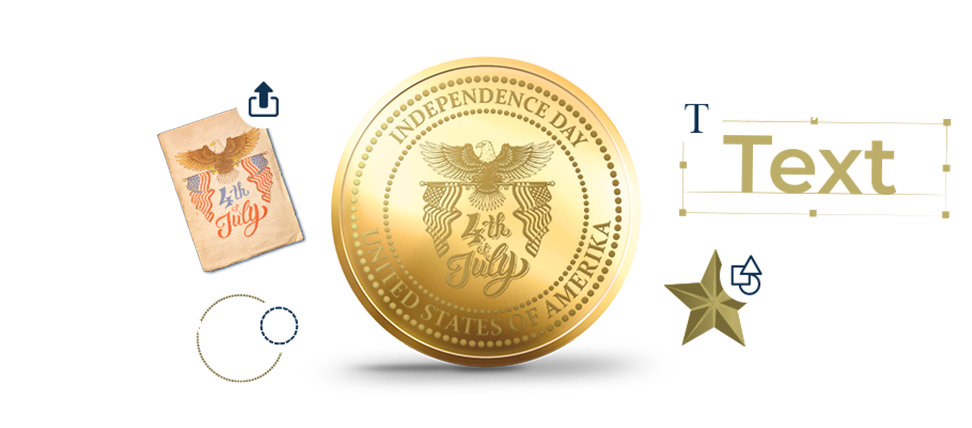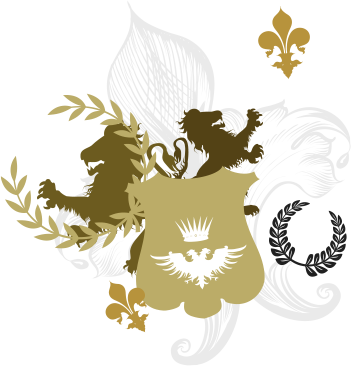 COIN DESIGN SERVICE
OUR DESIGN TEAM IS HERE TO HELP YOU WITH YOUR COIN DESIGN
Send us your design ideas, logos and pictures. Our design team
will create a stunning coin design for FREE
QUALITY YOU CAN SEE
Zoom into the coin and take a look at all the small details.
NATO Coin
50x4mm
Heavy Bronze
Hard Enamel Color
Light Antique Finish
Special Border Cut
Finest Precision
You only need a small amount of coins? Like 1, 5 or 10 coins?
No problem. We mint in our own factory. So we can already start at 1 Piece

Many of our clients only need a small amount of coins. Therefore we have added machines to our factiry for embossing, engraving and printing, that make even small coin amounts possible. We even offer single coins in 999 silver or gold.
Get in touch with us and tell us what we need. We find an affordable and high quality solution.

Do you need a large amount of coins and packaging?
As a producer with our own coin production, we can offer your request for thousands of coins in a short time,
at attractive conditions and in the highest quality. We also offer high quality packaging so you don't have to worry about anything.
Feel free to contact us for your large-scale project.
Embellish your coins with the right packaging
COIN PACKAGING & STANDS
When you give out coins as a gift, it is always advantageous to hand them over in a nice package. Take a look at our selection of packaging. We do also offer custom solutions if you wish.
Velvet Box + Print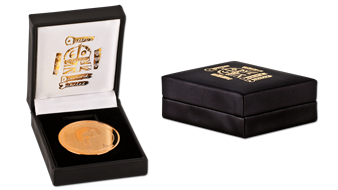 Acryllic Block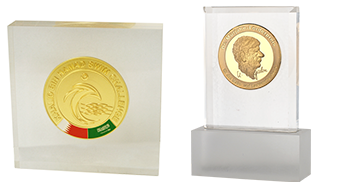 Floating Frame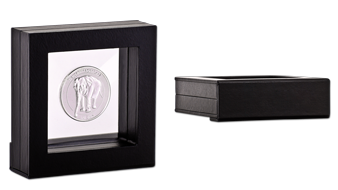 Acryllic Cup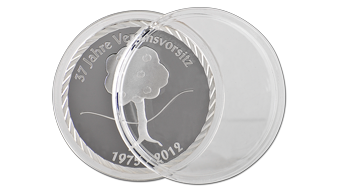 Velvet Pouch + Print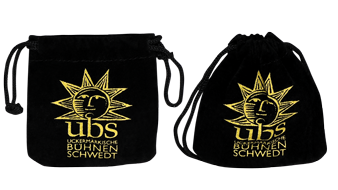 PVC Floating Frame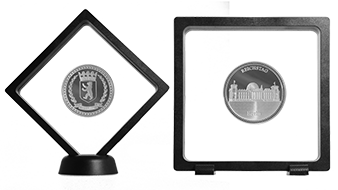 Acryllic Stand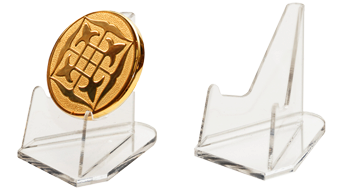 XXL Floating Frame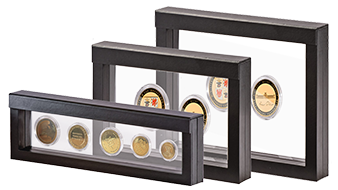 Velvet Box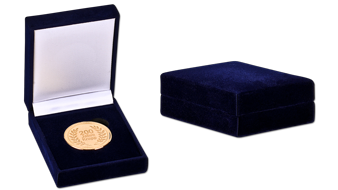 Metal Stand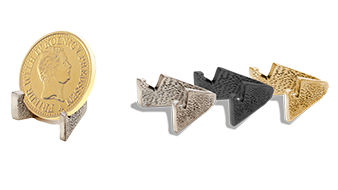 Velvet Pouch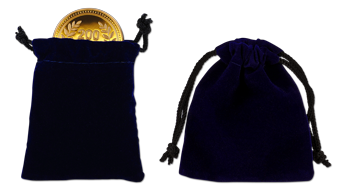 Wooden Box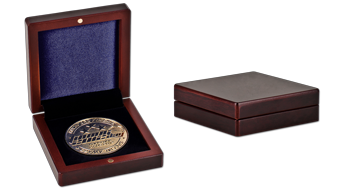 Customized Packaging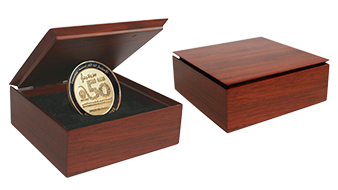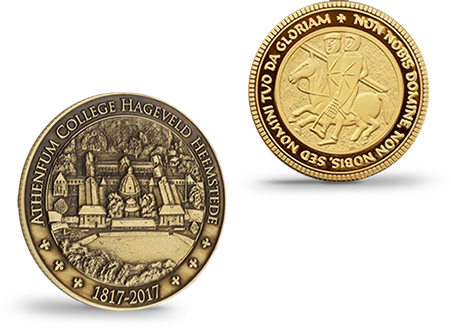 Contact us
At Coin-USA, you will have a dedicated Account Manager, Will, to guide you through the coin production process. Reach out today and start your project now!