Our experience and deep knowledge of custom coins and medallions.
Coin-USA's experience and knowledge of custom coins goes back to the Cold War period when members of our management team received their first custom coin while serving in the then divided city of Berlin. Later, in 2003, our parent company founders envisioned a far better way to provide handcrafted unit coins and medallions into the custom coin marketplace by utilizing new design and quality innovations. Today, this depth of experience allows us to offer our U.S. customers a full range of individually tailored pieces at different price points, to include one-of-kind commemorative pieces for large festivals and events, classic military unit challenge coins drawing from our deep heritage in supporting U.S. and NATO units, and hand-crafted medallions using precious medals for national museums and multinational corporations.
Our bench is deep and provides us with worldwide placement and reach.
As a member of the "DerTaler" corporate family, Coin-USA is part of a global enterprise that provides us with the local knowledge and reaches for wherever our customers are – or where they go.

Our use of the latest technology and quality management best practices.
Each hand-crafted piece requires 10 or more individual steps in the production process. With our own in-house design and production capabilities, we conduct the design and production of our individually crafted pieces using the most modern minting technology and Plan, Do, Check, Act quality management practices.

We don't sell you standard stuff, because you are unique.
While most custom-made coins are not really "custom made" but follow cheap "industry standard" dimensions, we can design and produce truly custom-made coins. Our technical specialists are there to help craft the right piece for you and your purpose. But we will also make sure you can stay in your budget with our competitive prices like 10,000 tailored convention coins at less than .60 cents each, traditional military or law enforcement challenge coins costing around $3.50 for 1000 pieces. And when you want to commemorate priceless moments or achievements, we can also produce pure .999 Fine Silver or 24K Gold custom medallions.

We are part of a multinational corporation.
We are a 100% registered US company and have a worldwide network. We produce here and abroad to serve you wherever you are. We can say with pride, that we own our factories and have our own employees overseas; they are located in Germany and other countries. One of our biggest production facilities is located in China with our own, well-trained staff of specialized experts. The production location of your product will depend on the features you chose and the timescale of your order and can be changed during the production process to provide you with the best result.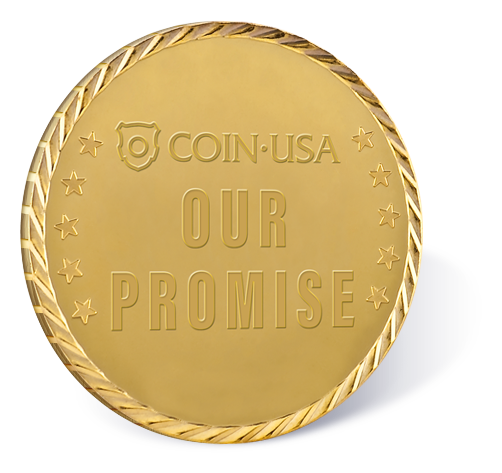 The Coin-USA Promise:
We know that your coins honor the most important people, achievements, memories and events. For this reason, we are dedicated to using only the most precious materials and highest quality craftsmanship.