Packaging
The right packaging sets your coin perfectly in scene.
We offer a wide variety of different packaging options for your custom-minted coins. Whatever your coin design idea, budget and personal wishes, we will help you and find the perfect solution. Feel free to choose the coin packaging that suits your project: Just an acrylic cup that will protect your coin from external factors or the velvet box, which is available in many colors and can be enhanced by printing your logo.
Take a look at our V19 coin frame: the coin seems to float and you can see both sides of the coin. .
Just ask us for the best option that suits your project.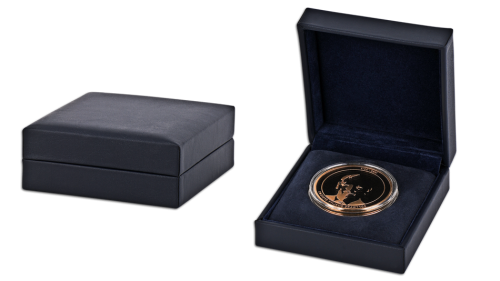 Different sizes available
Perfect packaging to protect your valuable coin
Starting at 0.59 USD
(min. Qty 1 pcs, prices vary according to quantity)
Transparent stand-up display
Easy way to display your coin
Starting at 0.59 USD
(min. Qty 1 pcs, prices vary according to quantity)
Different sizes and colours available
Perfect when giving out a set of coins
Starting at 2.49 USD
(min. Qty 1 pcs, prices vary according to quantity)
With logo print available
Different sizes and colours available
Starting at 2.19 USD
(min. Qty 50 pcs, prices vary according to quantity)
Different sizes and colours available
High quality standard packaging for any coin and event
Starting at 8.99 USD
(min. Qty 1 pcs, prices vary according to quantity)
With logo print available
Different sizes and colours available
Starting at 8.99 USD
(min. Qty 50 pcs, prices vary according to quantity)
High quality wood with silk inlay
Only available for coins from 41mm up to 60mm
Starting at 29,99 USD
(min. Qty 1 pcs, prices vary according to quantity)
Frame with flexible silicone membranes
Coin floats inside frame, can be seen from both sides, frame can easily be opened
Starting at 9.99 USD
(min. Qty 1 pcs, prices vary according to quantity)
Frame with flexible silicone membranes
Available in XXL sizes and different formats
Starting at 24.99 USD
(min. Qty 1 pcs, prices vary according to quantity)
PVC-Frame with flexible silicone membranes
A cheaper version of our transparent frame
Starting at 7.49 USD
(min. Qty 1 pcs, prices vary according to quantity)
Your coin casted in acrylic
Any size and form possible, but you never get the coin out again
Starting at 99.99 USD
(min. Qty 1 pcs, prices vary according to quantity)