Custom Gold Coins from a Professional Coin Maker
Our company has extensive experience in minting custom 24k gold coins of premium quality. We have been in business for more than 20 years. Our experts will be happy to make great custom gold coins for you with detailed embossing and a top-notch "Collector coin" finish.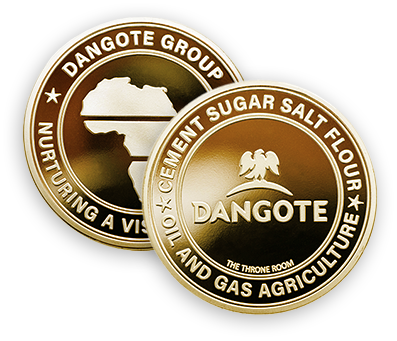 Are you looking to mint your own 24k Gold Coins with your logo? We got you covered.
Coin USA Inc. Has been in the minting industry for more than 20 years. It is important to say that our custom made gold coins are minted in our own fatory. And we only use a purity of 99.9% Gold. Therefore our shiny gold coins are great for commemorating special events and to recognize the success of partnersa and employees. It is also a superb way to increase company loyalty among employees.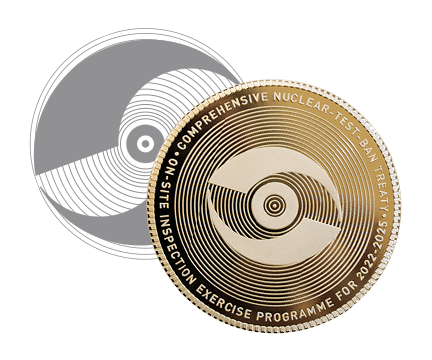 How long does it take to produce custom made 24k gold coins?
The production of gold coins depends on 2 factors. The coin design and the final quantity of coins. To find a timeframe, please send us all information, texts and logos that should be used on your coins. Then our professional design team will create stunning digital layouts of your coin. Once you approve the design, the production time mainly depends on the quantity of coins you will need. Please be prpared for 4-6 weeks of production time.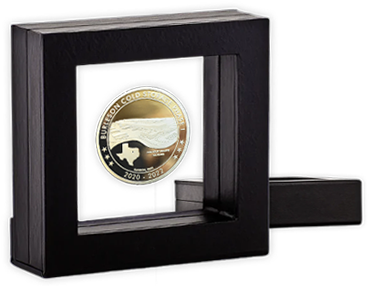 What does it cost to produce my own custom made 24k Gold Coin?
The production of pure gold coins is a costly project. Gold itself in the purity of 99.9% is already high price. And then there is the manufacturing of coins that depends on the design of the coins, the quantity of coins and the weight of the coins. As the price of gold is also subject to fluctuations on the commodity markets, our offers are valid for a maximum of 5 days. And please also consider the price of packaging. The more beautifully a gold coin is packaged, the more beautiful it is.
Watch our Video how a 24k Gold coin is minted in our Own production facility
Extras We Offer
Exquisite Packaging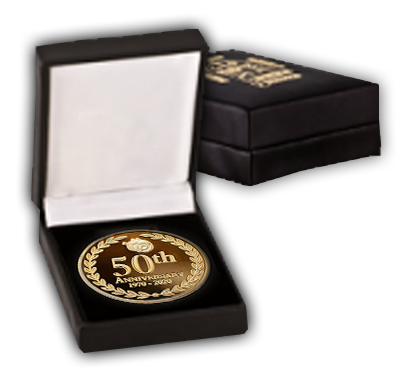 To ensure that the precious metal coins reach their future owners in perfect condition, they are packed in high-quality acrylic capsules. In addition to these capsules, we have a vast array of elegant packaging options for your individual embossed gold coins. They will display your customized coins in the right light. All of them look stunning and are sure to enhance the beauty and exclusivity of your individual coins.
According to the wishes of a client, we can customize the packaging and put your logo or personalized text on it. Have a look at our Coin Packaging options.
Velvet Box + Print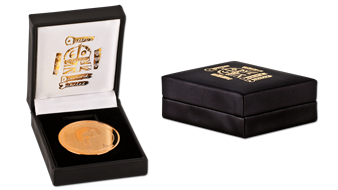 Acryllic Block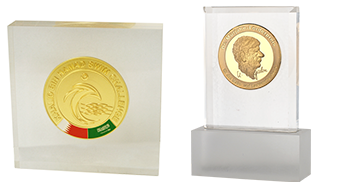 Floating Frame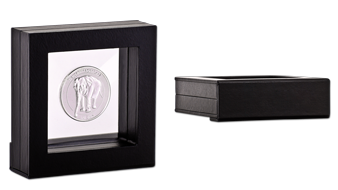 Acryllic Cup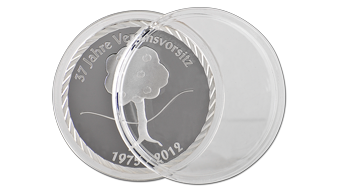 Velvet Pouch + Print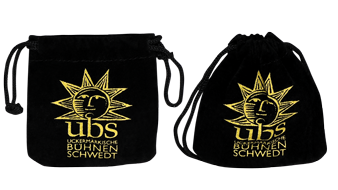 PVC Floating Frame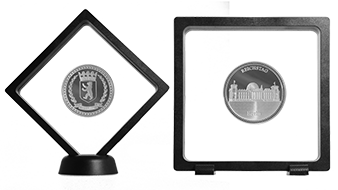 Acryllic Stand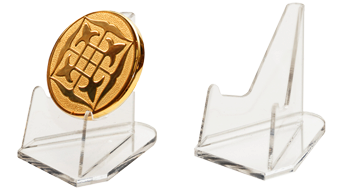 XXL Floating Frame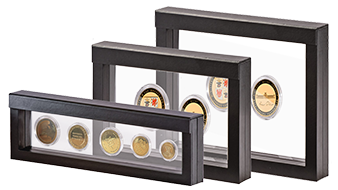 Velvet Box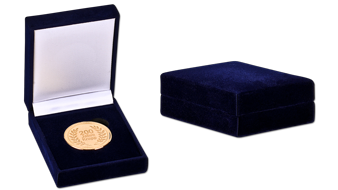 Metal Stand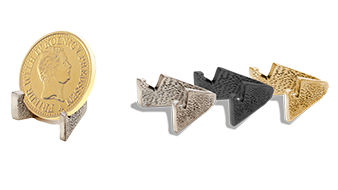 Velvet Pouch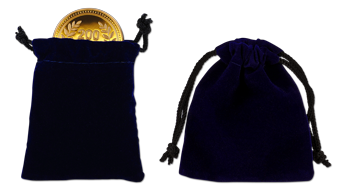 Wooden Box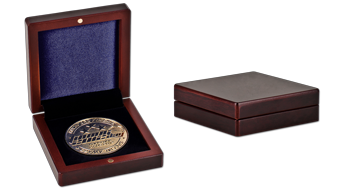 Customized Packaging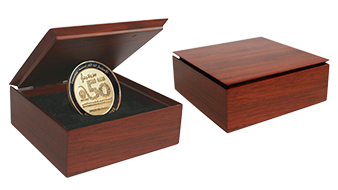 Design your coin
Design your Custom Gold Coins online
Upload your existing designs to our Coin Configurator or let our tool provide you with some inspiration.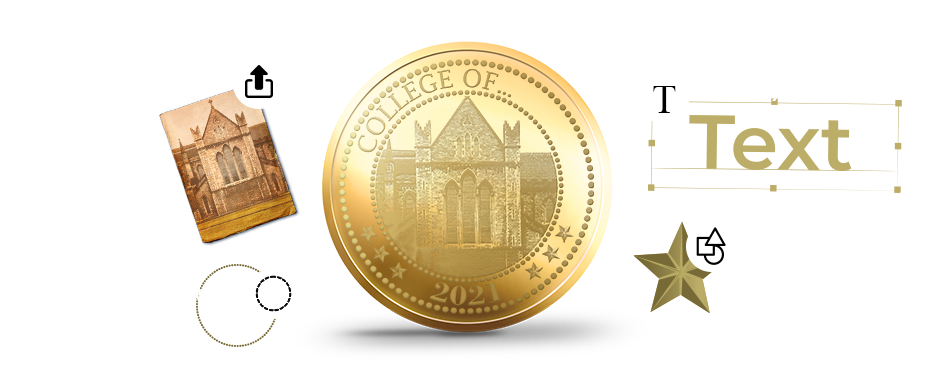 Key Steps of Manufacturing Custom Pure Gold Coins
Here are the major steps to creating high-quality custom embossed coins in 24K gold:
1. Design Creation
The first step in the production of custom gold coins is the creation of a personalized design concept by our coin designers. This is then sent to the customer for approval. When the approval is received, the image is transferred to the digital plane and a 3D model is made of it. The 3D model is used directly to make the dies for minting custom 24K gold coins. This die is highly detailed so that all the fine elements, be they texts, or graphics, are displayed as accurately as possible on the finished custom gold coins. It should be noted that we make several stamps at once, as they are subject to a lot of pressure and wear out quickly.
2. Gold Melting
Once the coin stamp is made, examined, and allowed to work, the preparation of gold for minting your precious metal coins begins. To do this, the specialists need to melt 24K gold ingots in our melting furnace. The precious metal is subjected to a very high temperature of 1,064°C. If required by the customer's project, in this step, other metals can be added to the molten gold.
Then, the slightly cooled precious metal is pressed out of the furnace through various rollers at a force of up to 200 tons. Long plates of the required thickness are thus formed. They correspond to the thickness of the future custom 24K gold coins. These plates are used to stamp the blanks for personal coins. They are carefully cleaned. Before getting stamped with your design, the coin blanks are used to die-strike custom gold coins. Production of custom coin blanks is waste-free. Any leftover metal is sent back to the furnace and recycled into new coin blanks.
3. Custom Embossing
Typically, custom coins' front and back sides have designs that vary. Therefore, we use different molds to mint obverse and reverse of custom embossed coins. The blanks are inserted into the minting machine by hand and each one is thoroughly examined. Stamps of custom 24K gold coins with even the slightest defect are sent for remelting.
The approved design is embossed on precious metal coin blanks at a pressure of about 100 tons. This is followed by another inspection of the custom pieces to ensure that they exactly match the client-approved design. Our in-house specialists are careful to ensure that the minting dies are in excellent condition and replace them regularly to ensure impeccable results.
Make Your Custom Commemorative Coins a Reality with Us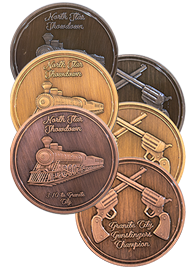 When creating custom coins, we are focused on conquering creative challenges and satisfying our clients. Therefore, even if you need only one commemorative coin, we will certainly get to work. We don't have a minimum order! With us, all the metals and alloys are available for minting coins. Your customized coins can be made of either pure gold or fine silver, or another metal with gold or silver plating.
Use our feature-rich tool, the Coin Configurator, and model the future look of your individual coins with its functionality. Our coin designers make sure to take your mock-up to perfection.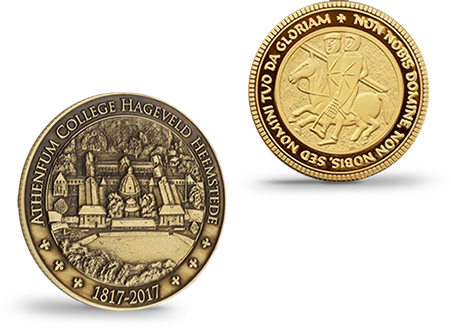 Contact us
At Coin-USA, you will have a dedicated Account Manager, Will, to guide you through the coin production process. Reach out today and start your project now!
Over the past 20 years, we have gone great
Custom Coinage & Premium Precious Materials
We've gone to great lengths to ensure that our gold coin production is deeply customized. If you partner with us, your custom gold coins can have absolutely any appearance. Almost any design can be applied to them; it can be a slogan or the logo of your company, for instance.
We are a professional minting service for custom 24K gold coins with individual designs. Embossed gold coins made by our specialists are always unbeatable-looking pieces. They are perfect to mark your distinguished employees or to pay tribute to an essential anniversary of your organization.
Besides 24K gold, we also offer a variety of other high-quality precious metals for coin stamping. If you order from us, your custom coins can also be made in .999 fine silver, rose gold, palladium, and platinum.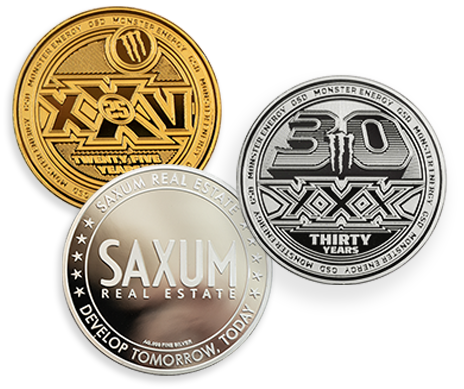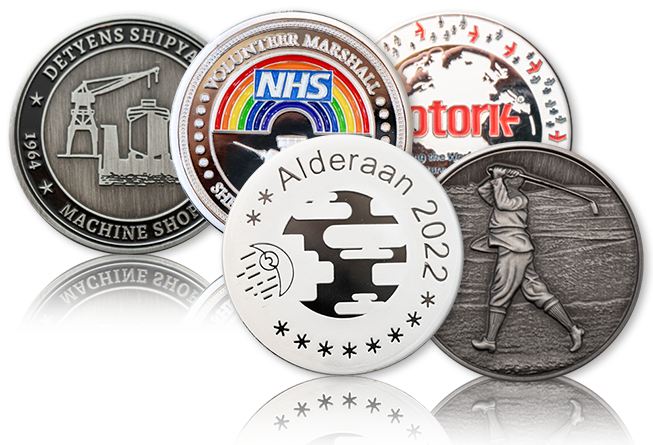 Top-Quality Finishes for Your Custom Gold Coins
Coin minting requires reverent attention to detail to guarantee impeccable quality and achieve customer satisfaction. To ensure that each and every one of our clients receives a one-of-a-kind custom gold coin run, we provide a wide variety of finishes. Our premium finish, the mirror-like polished plate with matte details will take your coins to a new level of perfection.
To highlight the exclusivity of solid custom 24K gold coins, they can get a customized coin edge treatment, hallmarking, laser engraving of inscriptions, or serial numbers.
When making custom silver coins in our own production facility, we either use a traditional die-striking or minting method that both have proven to be highly effective. Only the best of the best of us work hard to ensure that you get individual coins of the highest quality. They know how to give your coins an exceptional look. If our mirror-like polished plate is not what you're looking for, your embossed gold coins can also be sandblasted, antique or matte. All finishes can be completed with enamel colors if desired.
If you'd like to mint custom gold coins that will shake you with their beauty and authenticity — you are in the right place!