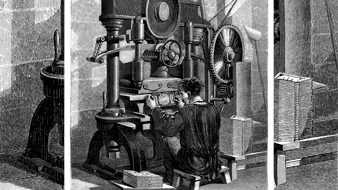 Coin embossing – as an exceptional and personal gift
The history of coin embossing (It concerns with medals in our products, see disclaimer) has produced true works of art in addition to numerous currencies, which are appreciated by real coin collectors around the globe. The motives and portraits, who emboss the front and back of a coin, can nowadays even be adapted to individual wishes, as our website offer shows you with a variety of coins and medals. With us, you can carry out individual coin embossing and can choose motives and labels for free. We already have numerous options for the embossing of coins for you from the colouring of individual areas of your coin up to the engraving of letters on the edge of the coin. All of this will also correspond to your price expectations.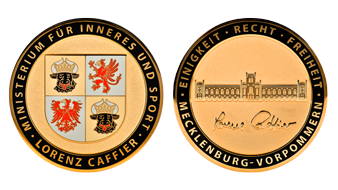 The own coin embossing – professionally and privately one exquisite feature
The private and commercial customers equally grab the opportunity on our website offer who have discovered an individual coin embossing as an exquisite gift for many occasions. In the professional field, the awarding of a Medal with individual coin embossing can honour a long-time employee or can be presented as a challenge coin in the Army / Armed Forces. Also sport clubs and similar institutions can distinguish members for special achievements while coins offer privately a gift for a wedding or a similar unforgettable celebration. All options from the name of a bride and groom to a relief image are available for the own coin embossing.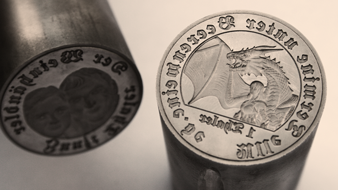 Benefit from the variety of our materials and get price-conscious coins embossed
Budget for unique coins vary also from each other as the appreciation which should be expressed with a coin or medal. Here, we undertake your individual coin embossing and offer a huge range of basic materials from 24-karat gold coin to the coins made of steel or PVC. All of them can be processed according to your wishes and are regarded as a high-quality and unique attention by the recipient. Find out easily with our help how the interest in a unique coin embossing can also correspond financially to your expectations, and grab the opportunity!

Disclaimer: Our products on this page are known as "Coins" in order to comply with general linguistic usage, . It should be expressly pointed out that it concerns, however, individually embossed medals and no current or former means of payment / currency.