Custom-Minted Coins and More About Challenge Coins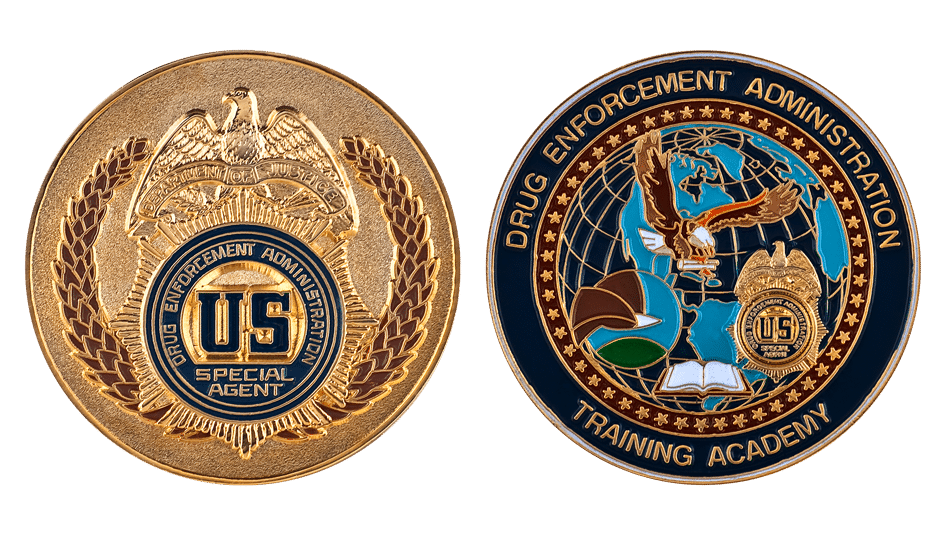 Learn about various kinds of custom-minted coins. From colorful challenge coins to classy precious metal anniversary coins, Coin USA manufactures them for you.
There are a variety of custom-minted coins. One of their subspecies is challenge coins. As an incentive or memento, commemorative corporate custom-minted coins can be ordered by companies for dedicated employees and important business partners. Also, they are often requested by colleges for their professors and students. Customized medals are regularly ordered by organizers of sporting events.
In this article, Coin USA explains the different uses of our premium custom-minted coins.
The History and Peculiarities of Challenge Coins
Challenge coins had their beginnings in the armed forces. Early in their history, custom-minted coins of this type were handed out to unit members to prove their affiliation with a particular department. In addition, they serve as insignia for certain services to the nation. Challenge coins have great symbolic value, they are tokens of fellowship and valor.
Custom-made challenge coins have long gone beyond the armed forces. Often, challenge coins are awarded to other worthy men and women who are staying on the guard of law, order, and the safety of our fellow citizens' lives. They are a frequent recognition of the services of various rescue, law enforcement, firefighting, and government organizations.
Challenge coins can be minted from a wide variety of materials. Brass, copper, nickel, bronze, or precious metals such as 24-karat gold, 999 silver, platinum, and palladium can be the material for a unit's customized challenge coins.
Typically, challenge coins have the emblems of the organizations embossed on either a front or back side. They may be colored, using soft or hard enamel. The custom-minted coins may also have a slogan or motto of the organization in question. We offer a wide variety of framing and coin stand options to display your custom challenge coins in the most favorable light.
Challenge coins carry a noble mission; they serve as a reminder of unity and acts of heroism among the people in uniform.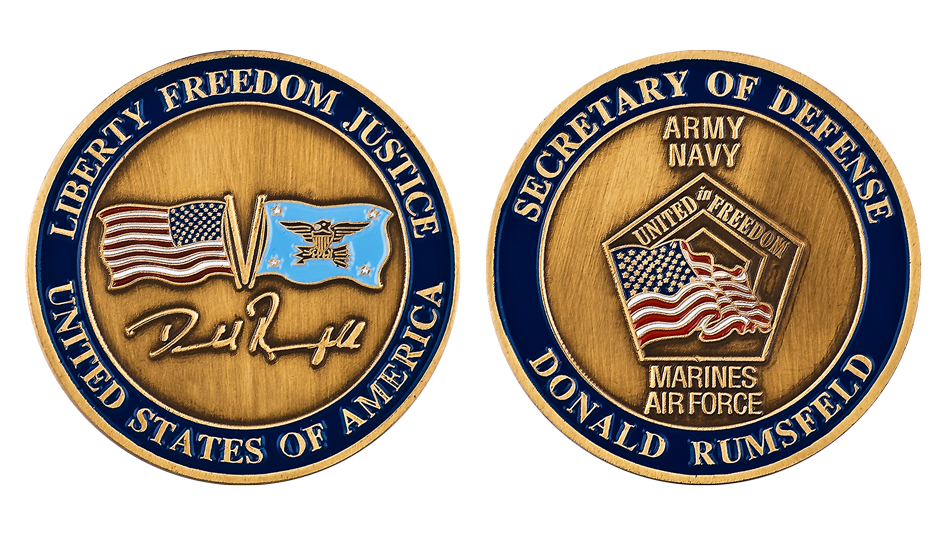 Dive into the Variety of Custom-Minted Coins
Custom-minted coins in the form of challenge coins can serve to honor not only military or lifeguards but also civilians. For instance, they are often ordered by businesses, colleges, sports organizations, etc. Custom-minted coins can be used to express appreciation for services or to pay tribute to those who have distinguished themselves in various fields. Consider the different kinds of custom-minted coins in more detail.
Custom-Minted Coins for Businesses
We mint corporate coins for businesses that fit all budgets. We can adjust a project's base material from sheet metals over PVC to precious metals like 24k gold or pure 999 fine silver.
In the business world, there are many uses for custom-minted coins:
Corporate Identity: companies might utilize custom-minted coins instead of standard paper business cards;
Employee Recognition: businesses mark exceptional employees with individual coins;
Relationship Management: firms may hand out custom-minted coins to business partners and staff at corporate celebrations of milestones and anniversaries.
Custom-Minted Coins for Colleges
Educational institutions often have us manufacture customized coins. They serve to celebrate the achievements of students or professors who have contributed to the institution in a meaningful way. Custom-minted coins also serve as a reminder of the years spent within the walls of the college. They are commemorative gifts that have a unique value. There is an opportunity to give them also material value by making custom-minted coins out of precious materials like 24K pure gold or .999 fine silver.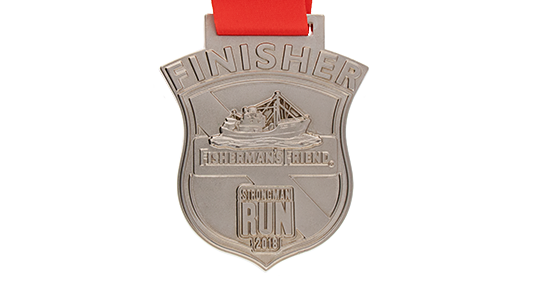 In the academic sphere, custom coins are minted on a variety of occasions:
To celebrate research achievement;
As graduation presents;
To commemorate an institution's anniversary;
To honor the educational facility's freshmen;
To award outstanding alumni or retiring professors.
Customized Sports Challenge Coins to Pay Homage to Athletes
Coin manufacturer Coin-USA is regularly asked to make sports medals. Our custom-minted coins are great items to honor participants and winners of sports events. Only the finest materials are used to make sports custom-minted coins. Often, they are minted from precious materials such as gold, silver, and bronze, for example, or plated in the latter. Like challenge coins that pay tribute to the military, sports custom-minted coins are stamped to support the fellowship of athletes. Custom-made coins are a great way for an athlete or fan to keep the memory of significant sporting events alive.
In the world of sportsmen and -women, there are the typical uses of custom-minted medals:
Commemorative coins for sports events prizewinners;
Souvenirs for athletes competing in a sporting tournament;
Memorial custom-minted coins for the fans of a certain sporting occasion.
If you have a great reason to give custom-minted coins, don't waste a second and contact us. Our team of coin designers will immediately begin developing a great design for your custom challenge coins. Although, if you already have ideas of what they should look like, use our Coin Configurator first.
Disclaimer: Our products on this page are known as "Coins" in order to comply with general linguistic usage. It should be expressly pointed out that it concerns, however, individually embossed medals and no current or former means of payment/currency.