Define your custom medals in 4 easy steps: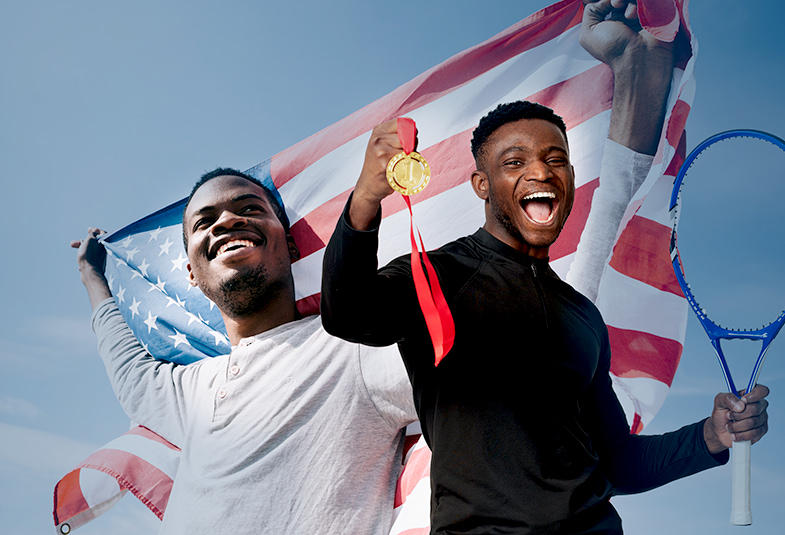 Medal Shape & Size
When we talk about individuality, we mean it. You can choose any shape (round, oval square) and any size

Medal Materials & Enamel
We produce our medals in 24k Gold, .999 Fine Silver and gold or silver plated non-precious metals, like bronze. Add a pop of color with enamel!

Award Ribbon Style,Colors & Print
The Award Ribbons are what makes the medal special. You choose the length, color and logo or text to personalize.

Presentation Packaging
When presenting medals, they should be in high quality packaging. We offer a wide range of options here.
What Are Custom Medals?
Custom medals are awards that are produced according to the specific requirements and wishes of private and corporate clients, like you. For their best possible presentation, we mint them from the finest quality metals. With Coin-USA , you can design your own medals with a custom design, shape, size, and finish. We will emboss, engrave, or picture print your logo and slogan on medals and award ribbons to make them truly unique/.
Coin-USA has been minting custom medals for our customers for over two decades. Whether you want to celebrate special achievements in your company or encourage excellence in sports and other competitive activities with custom-minted medals,
WE ARE THERE FOR YOU
How to Design Your Own Medals with Us
Getting the best medals for your event couldn't be easier if you choose us! Here are a few simple steps you should take:
Select a shape for your custom medal.

Choose from a variety of traditional medal shapes, such as round, oval, or rectangular. You might also choose a unique shape that reflects your event's theme and symbolizes what you're honoring.

Think about the size of your commemorative medals.

You can be sure we will implement any of your ideas. No need to adjust to the size standards that are commonly accepted among other mints. Our experts will make your custom medals exactly as small or large as you need.

Choose the finish for your custom medal design.

Options include antique or polished bronze, brass, copper, black nickel, and, of course, pure gold, and silver plating among others.

Decide on details like lettering and logo embossing for your exquisite medal design.

To add even more exclusivity to your custom medals, we will be happy to highlight your logo and slogan with enamel colors of any shade. We can add these elements to both sides of your custom medal or only to one side if you prefer.

Choose an Award Ribbon for mounting purposes:

Opt for a ready-made custom Award Ribbon or request us to print custom Award Ribbons of any size, width, and length with your logo and inscription in your chosen colors.
Finally, determine how many medals you will need in total and place an inquiry with us. We will produce your reward medals according to your specifications!
REMEMBER! We start producing personalized medals right from a single piece. Coin-USA has no minimum quantity order.
Precious metals available
We produce our medals also in 24K Gold and .999 Silver as well as
Palladium and Platinum.
Military award medals & decorative available
The finest medals to honor military heroism, meritorious or outstanding service or achievement.
OUR GRAPHICS SERVICE
DO YOU NEED HELP WITH THE
DESIGN OF YOUR CUSTOM MEDALS?
We create your coin graphic for free.
Just send us your ideas and images and logos.
Design Your Medal
Online coin configurator
Use the functionality of our Coin Configurator to experiment with the appearance of your custom medals and ribbons. Try yourself as a graphic designer and then hand over your design to professionals.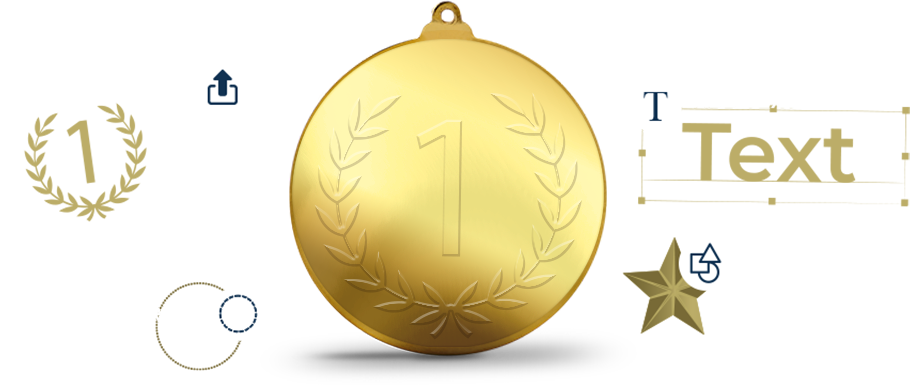 *This tool is auxiliary and in no way replaces the advice and meticulous work of our coin and medal designers.
Frequently Asked Questions
What types of custom medals do you offer?
We produce a wide range of personalized medals that are designed and manufactured according to your specifications. These can include sports medals, corporate awards, service awards, academic achievement awards, and more. We have an in-house production facility and a team of professional coins designers that can help create the perfect medal for your needs.
What metals are available for custom medals?
We work with the best providers who are proven by many years of cooperation. Our company offers one of the richest selections of both the highest quality common metals (bronze, brass, copper, and zinc) and pure precious metals (gold, silver, and platinum).
What size are personalized medals?
While many other medal manufacturers work with standard formats and pre-made layouts, we prefer to offer full customization. Choose the size and weight of your medals depending on your design idea and specific requirements.
Can I add color to my custom medal?
Yes, we can highlight your logo and slogan with enamel colors of countless different shades. You can choose between hard and soft enamel colors for your medals. Thus, our specialists will fill your commemorative medal with vibrant details that will make it truly unique!
How long does it take to make a custom medal?
Depending on the complexity of your design, it typically takes 6-8 weeks from concept to completion for us to finish a custom-minted medal run. Once the artwork is approved and payment is received, we will begin production immediately with estimated delivery dates being provided at this time as well. Please be aware that we can never guarantee set delivery dates, as we depend on external delivery service partners
Are there any minimum order requirements for personalized medals made by Coin USA?
Coin USA knows that each project is individual and requires its own number of manufactured pieces. Therefore, we do not impose an obligation to order a minimum number of coins. We mint custom medals starting from one piece.
Our company
Why choose us?
Coin-USA Inc. is a US based company.
We have built a global coin network, with offices in the US (Melbourne, FL), Germany (Berlin), UK (London), France (Paris). Our own production facilities are located in Germany and Asia. We are passionate about coins and proud to be only using the best materials and production methods. Each custom coin that we produce is uniquely handcrafted.
20 years of experience
Quotes in 24 hours
Worldwide delivery
Personal account manager
Complimentary layout graphics
Free samples
Precious and non-precious metals
Prestigious client portfolio
Inquiry
At Coin-USA, you will have a dedicated Account Manager to guide you through the medal production process. Reach out today and start your project now!