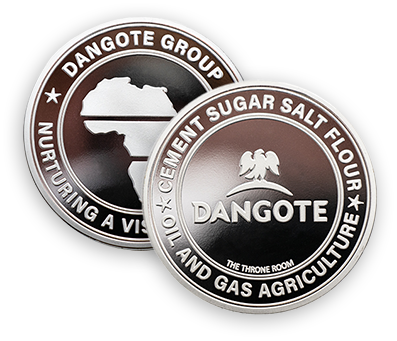 Would You Like to Have Custom Silver Coins? We Got You Covered!
Our professional team has dedicated experience of more than 20 years in the field of coin minting. All our .999 Fine Silver coins are minted in our own production facility. The purity of our coins is 99.9% pure silver. We are using only the highest minting techniques, our silver coins have a collector's coin finish called "polished plate". Our designers add a lot of heart and should into every custom piece minted to your satisfaction.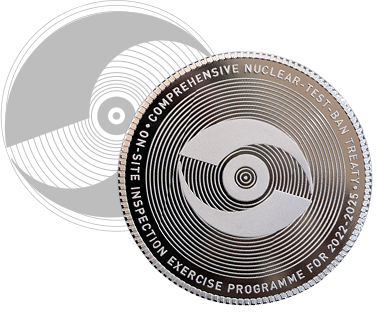 What is Needed to Get a Quote and Start a Custom Production of Silver Coins?
Please send us all information you have about your coin project. How many coins do you need? Do you know the size of the coins? Or the weight of the coins? All this information will help us to send you a suitable offer. Do you already have a design ready? Or should our design team create different layouts for you? Maybe you have found a coin in our gallery or online that you like, and we can adapt it to your needs.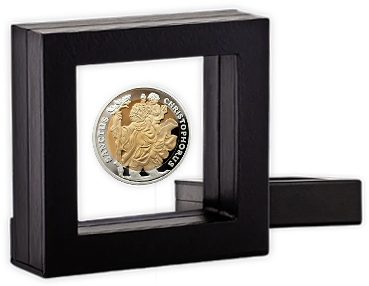 How Much Does it Cost to Get My Own Custom .999 Silver Coins Made?
The price of pure 999 silver coins depends on several factors. First and foremost is the price of silver. This can vary and therefore you will always receive a quote with a validity of maximum 5 working days. In addition, we will need an information of the weight and the quantity of coins. To receive a quote, tell us how many coins you need and state the weight or size of the coin. Remember, the more beautifully packaged silver coins are, the more valuable they are. So don't hesitate to ask about our packaging options.
Watch our Video how a 999 Silver coin is minted in our Own production facility
Additional Services We Provide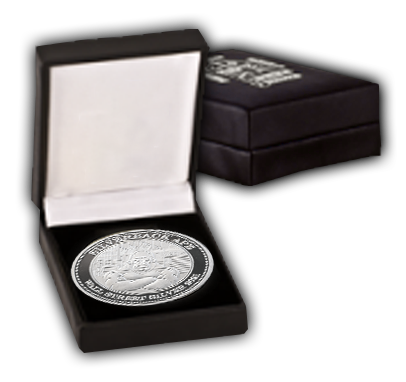 We invite you to complete your custom silver coin order with fitting packaging and optional certificates of authenticity. Our coin designers are happy to help you with these.
Elegant Packaging for Your Custom Silver Coins
We place a tremendous amount of importance on the quality control of our custom silver coins. We do everything necessary to make sure that the embossed silver coins look flawless in the production process as well as when they are finished. Therefore, our staff packs your custom .999 fine silver coins in high-quality acrylic capsules to protect them from mechanical impacts and oxidation.
In addition, Coin-USA offers a large range of coin packaging options. They will help you highlight the beauty and significance of your custom silver coins. We always work to meet the needs of the customer and in accordance with all their wishes. Thus, with us, it's possible to customize your coin packaging and apply your logo, slogan, or any personalized text on the display of your choice. Take a look at our Coin Packaging options.
Velvet Box + Print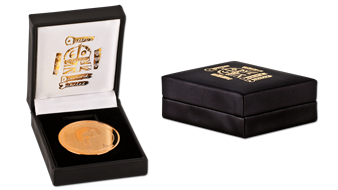 Acryllic Block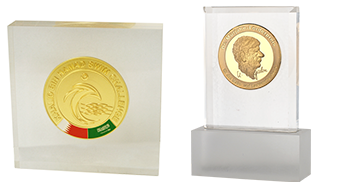 Floating Frame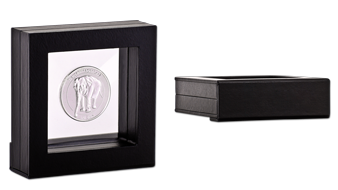 Acryllic Cup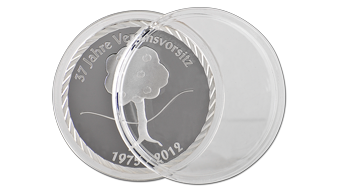 Velvet Pouch + Print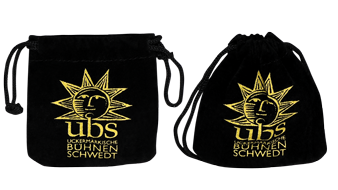 PVC Floating Frame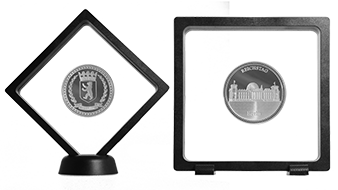 Acryllic Stand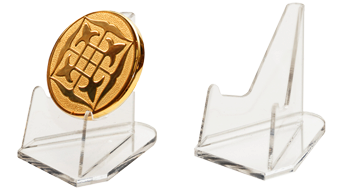 XXL Floating Frame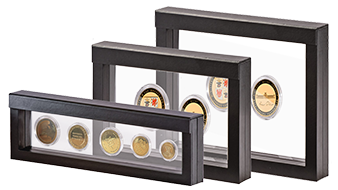 Velvet Box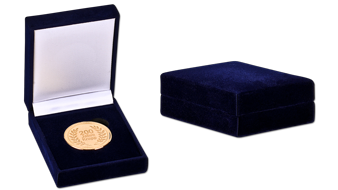 Metal Stand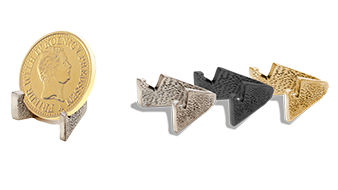 Velvet Pouch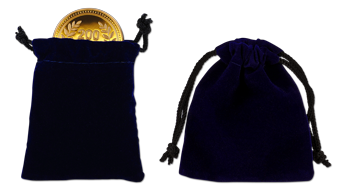 Wooden Box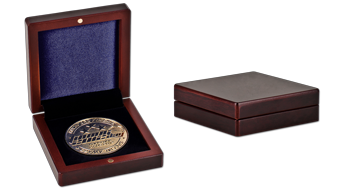 Customized Packaging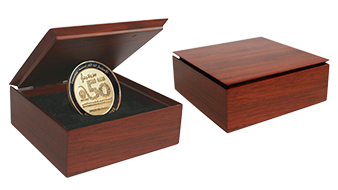 Design Your Own Silver Coin
Why We're Your Perfect Partners for Custom Silver Coinage
We are deeply committed to the business of coinage. Coin USA treats it not just as a job but as our life's work. That's why we take great care to make every coin we mint a work of art.
We have created an easy-to-use tool for our customers that allows them to directly model the future appearance of their custom silver coins, the Coin Configurator. This way our designers know exactly how you'd like your custom silver coins to look like.
And one more "pro" of working with us — we have no minimum order!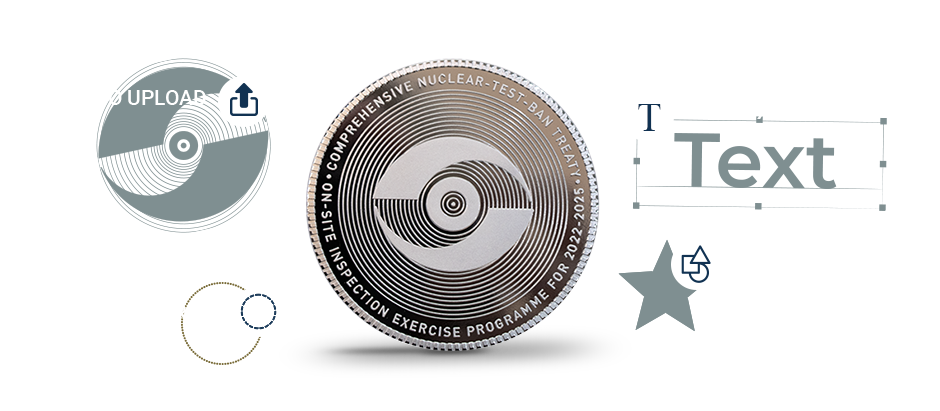 How Custom Silver Coins are Produced
Learn the basic steps we take when making your personalized coins from .999 Fine Silver:
1. Developing a tailor-made design for your own silver coins
The first step in the production of custom Silver coins is the creation of a personalized design concept by our coin designers. This is then sent to the customer for approval. When the approval is received, the image is transferred to the digital plane and a 3-D model is made of it. The 3D model is used directly to make the dies for minting your custom design on .999 Fine Silver coins. This die is highly detailed so that all the fine elements, be they texts, or graphics, are displayed as accurately as possible on the finished custom Silver coins. It should be noted that we make several stamps at once, as they are subject to a lot of pressure and wear out quickly.
2. Silver takes the form of custom coins
As soon as the custom silver coin design is complete and the dies are made, we proceed to prepare the metal for minting the coins in the correct size.
To make high-quality custom silver coins, we use .999 fine silver. Our experts heat the silver up to around 1,000°C to melt it. Once liquid, we can add another metal to it at your discretion to make the needed alloy.
When the silver smelting work is finished and the metal has already cooled to the desired temperature, it is squeezed out of our smelting furnace through the adjusted slots. It is done under high pressure. This is necessary to form sheets of silver, which further serve to make coin blanks for the custom silver coins. Each sheet has a predetermined thickness. All blanks of future custom .999 fine silver coins are carefully inspected and cleaned.
3. Customized embossing of your .999 fine silver coins
Typically, custom coins' front and back sides have designs that vary. Therefore, we use different molds to mint obverse and reverse of custom embossed coins. The blanks are inserted into the minting machine by hand and each one is thoroughly examined. Stamps of custom .999 Fine Silver coins with even the slightest defect are sent for remelting.
The approved design is embossed on precious metal coin blanks at a pressure of about 100 tons. This is followed by another inspection of the custom pieces to ensure that they exactly match the client-approved design. Our in-house specialists are careful to ensure that the minting dies are in excellent condition and replace them regularly to ensure impeccable results.
We mint your Single Custom Silver Coin from .999 Fine Silver

There is no minimum order at Coin-USA. We enjoy working on your individual coin project - starting from one piece. Enjoy full customization of your single fine silver coin or choose to engrave your custom design on a ready made .999 silver coin round when short on budget or time.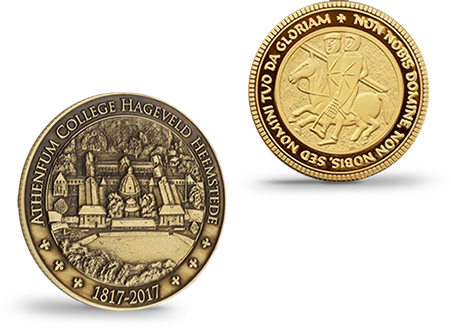 Contact us
Our team of experienced Account Managers at Coin USA are looking forward to start working on your coin project and guide you through all the relevant steps.
Please fill in the following form and we will make sure to get back to you as soon as possible. Together, we will make your custom coin project a complete success.
Over the past 20 years, we have gone great
Custom Coinage & Premium Precious Materials
We've gone to great lengths to ensure that our silver coin production is deeply customized. If you partner with us, your custom silver coins can have absolutely any appearance. Almost any design can be applied to them; it can be a slogan or the logo of your company, for instance.
We are a professional minting service for custom .999 fine silver coins with individual designs. Embossed silver coins made by our specialists are always unbeatable-looking pieces. They are perfect to mark your distinguished employees or to pay tribute to an essential anniversary of your organization.
Besides .999 fine silver, we also offer a variety of other high-quality precious metals for coin stamping. If you order from us, your custom coins can also be made in 24K gold, rose gold, palladium, and platinum.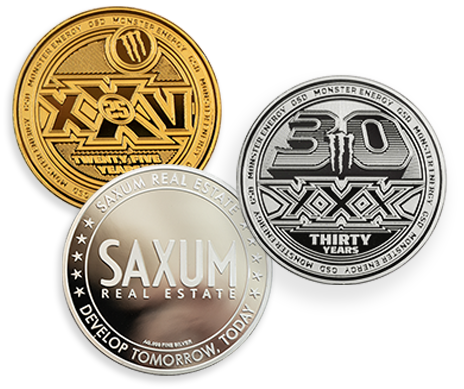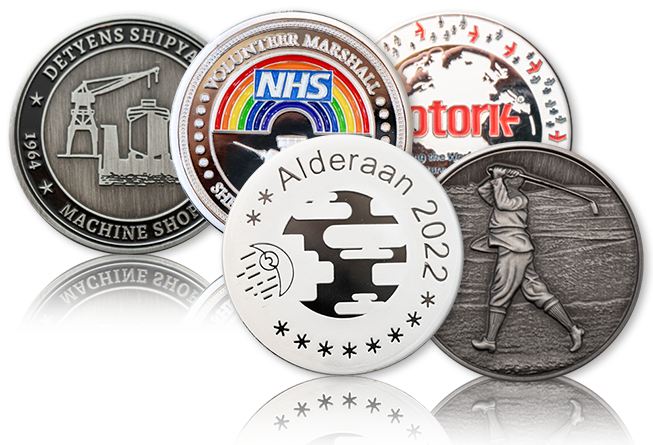 Top-Quality Finishes for Your Custom Silver Coins
Coin minting requires reverent attention to detail to guarantee impeccable quality and achieve customer satisfaction. To ensure that each and every one of our clients receives a one-of-a-kind custom silver coin run, we provide a wide variety of finishes. Our premium finish, the mirror-like polished plate with matte details will take your coins to a new level of perfection.
To highlight the exclusivity of solid custom .999 fine silver coins, they can get a customized coin edge treatment, hallmarking, laser engraving of inscriptions, or serial numbers.
When making custom silver coins in our own production facility, we either use a traditional die-striking or minting method that both have proven to be highly effective. Only the best of the best of us work hard to ensure that you get individual coins of the highest quality. They know how to give your coins an exceptional look. If our mirror-like polished plate is not what you're looking for, your embossed silver coins can also be sandblasted, antique or matte. All finishes can be completed with enamel colors if desired.
If you'd like to mint custom silver coins that will shake you with their beauty and authenticity — you are in the right place!