University and School Coins to Keep Good Times in Mind
Mark academic achievements with individually minted school coins for students, professors, staff, etc. Keep the memory of your college alive with custom coins.
University coins are considered an honorable commemorative present. They are no doubt a great way to pay tribute to the incredible experience students have at colleges. Educational institutions nurture the future of the nation. School coins serve as a great reminder of the years spent within the walls of a university. Students, graduates, and distinguished professors proudly keep and display their school coins over the course of a student's/teacher's academic career and throughout their lives. The school coins preserve the connection between students and their alma mater. The educational facilities strive to fill the bright heads of young people with precious knowledge. The medals help them remember that time.
Samples of Custom School Coins Made by Coin USA
Most American institutions prefer us to not show their custom-minted college alumni or school coins. Thus, we are presenting a set of university coins made in our mint for institutions overseas. Impressive 3D die-cast coins show a French university building and text to be read all around the 70 x 3 mm big school coins' outer ring. With their Bronze Antique finish, these college coins fit well in their also custom-made coin boxes in blue velvet with the university logo's print. Elegance meets tradition in this project. The college coins were handed out at a special awarding ceremony.
Both, the ordering university and recipients were as pleased with their customized school coins, as to ask us to reuse their custom-mold to die-cast a slightly modified series. Thanks to a 24K Gold plating and individual engraving, the second run of French School coins turned out to be even more sophisticated. They are given out to special guests, as a remarkable and unique gift.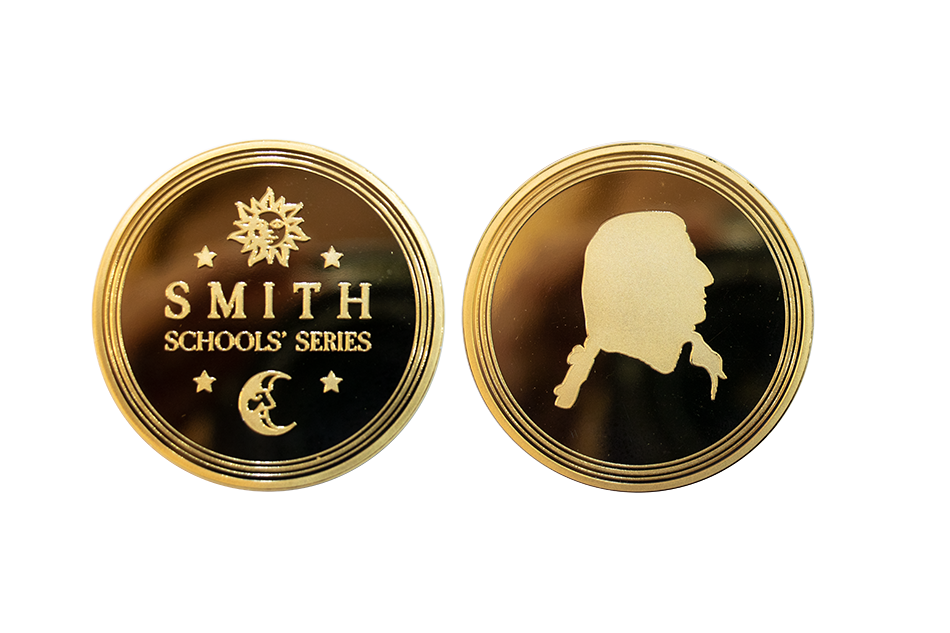 Exceptional Custom-Minted Coins for the Smith Schools
Another nice set of school coins coming out of our mint was made for an educational project called the Smith Schools' Series. The project intends to instruct Curriculum for Excellence Second level pupils to become confident at debating their ideas and knowledge. While advancing in the quiz, our school coins can be earned by all participants thanks to strategic moves, upbringing of critical questions, and smart debating techniques. We're proud to provide these golden custom-minted school coins with the portrait of Adam Smith and signs of enlightenment embossed on the pieces with polished plate finish.
Outstanding School Coins For the Dutch College
A university in the Netherlands had us mint "Herdenkingspenningen" for them. This is Dutch for commemorative coins. Their Bronze antiqued School coins bear the purpose of being sold as collective items via the college's website. The front side is embossed with a picture of the campus, while the back side's center is filled with blue hard enamel color, nicely contrasting the school's 200-year anniversary logo. This example proofs that individually designed and minted school coins are great commemorative branding items.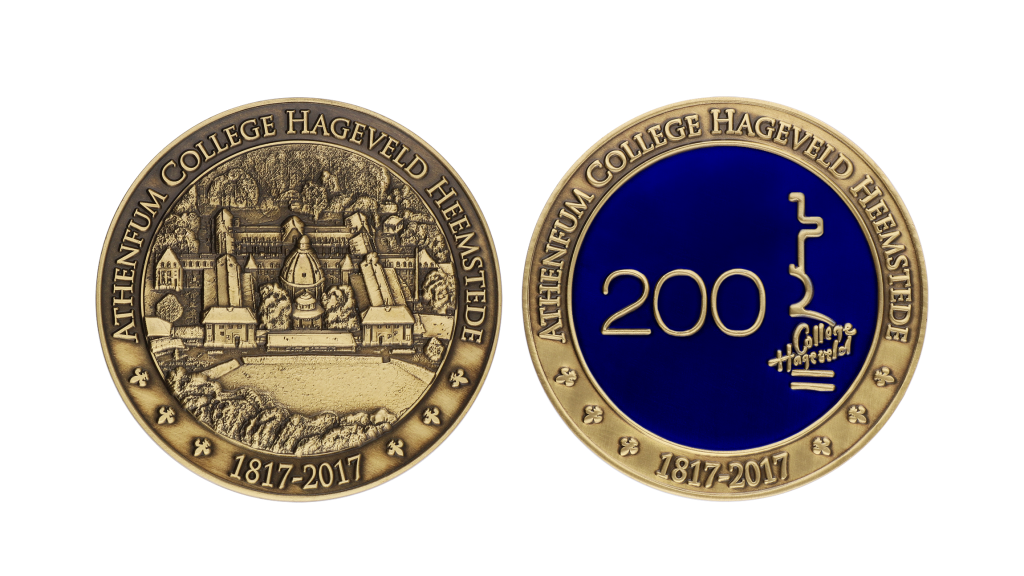 Impressed by the University Coins Presented Above? Get Some for Yourself!
Create your own university coins already today! Check out our Coin Configurator and discover your options when sketching a first draft of your school coins. Our team of coin designers can't wait to work on your customized university coins.
Contact us now!
Disclaimer: Our products on this page are known as "Coins" in order to comply with general linguistic usage. It should be expressly pointed out that it concerns, however, individually embossed medals and no current or former means of payment/currency.