Have a Single Custom Coin Made in Highest Quality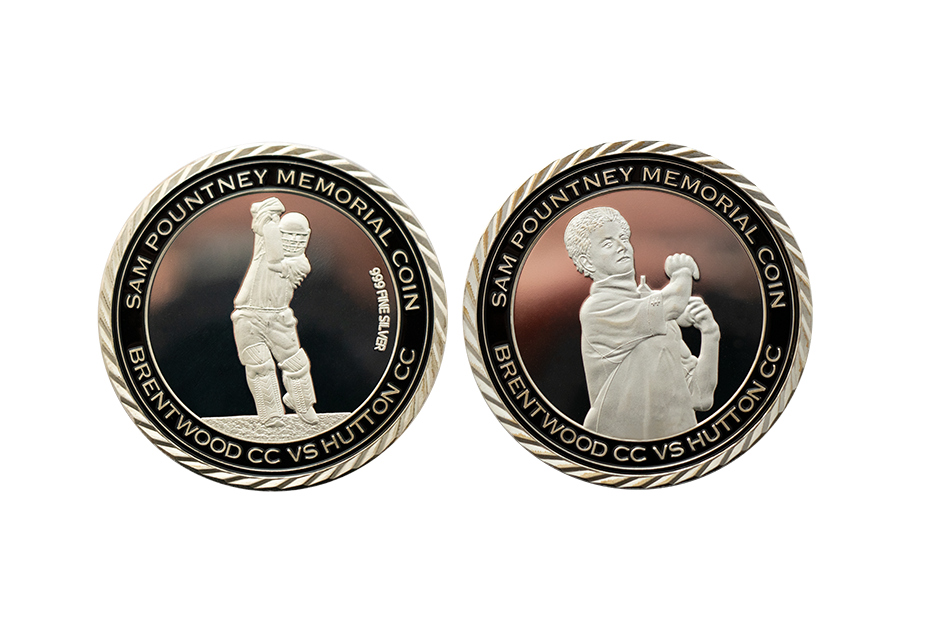 Custom coins starting at one piece: Coin USA is happy to manufacture for you a single custom coin with individualized designs and in different materials.
People like to produce and order custom coins. They are frequent "guests" at all kinds of celebrations. However, the client does not always need a large number of medals, but just one single custom coin.
At Coin USA, you can order single custom coins starting at one piece and are eager to make a small number of top-notch bespoke coins or a single custom coin for you. Contact us now and get answers to all your questions.
Custom Coin Production Starting at One Piece
What is the secret of custom-made coins? The answer lies in their easy-to-modify nature. This means that it is up to the customer to decide what their single custom coin will look like. They determine the metal for their single coin's base and plating, its size, thickness, shape, and, specifically, what will be depicted on it and how their custom design will be applied to the metal.
Check out below which type of single custom coins our clients request us to craft most often.
Precious Metal Single Custom Coin
Going to celebrate an important event and preparing gifts on this occasion, people always try to present something valuable and expensive. Bespoke coins made of precious metals take pride of place among the possible candidates to become such a gift. A single custom coin made of gold or silver, in addition to its sentimental value, also has an objectively great practical value.
Besides gold and silver, our specialists work with many other different precious and non-precious metals metals. You are free to select any of the following to produce your single custom coin:
24K pure gold;
Rose Gold;
.999 fine silver;
Platinum;
Palladium;
Copper;
Bronze;
Brass;
Zinc;
Black Nickel; among others.
Coin USA stands for creativity and complete customer satisfaction. As long as excellent minting quality is possible to achieve, we offer options for creating other metal alloys at the request of the client. Also, our professionals are ready to apply to the core of your custom coins starting at one piece the precious metal plating of your choice.
We can bring your idea to life and transfer the design created together with our coin designers to a single custom coin using the methods of color-printing, laser- or dot engraving, embossing (2D or 3D) and die-casting for even higher reliefs. Accordingly, these pieces are called printed, engraved, embossed or die-cast single custom coins.
Individually Engraved Coins
Commemorative coins with customized engraving are always a great way to impress the recipient. These bespoke coins look stunning. Our company is always striving for self-improvement, and that's why we offer two ways of engraving your single custom coin at once. These are laser and dot engraving. When engraving your entire design on the coin, we would always do it with the dotting technique; here a diamond head "hammers" your approved of design into the standardized coin round of your choice. For smaller engraved add-ons such as serial numbers on custom embossed coins, we would rather opt for precise laser engraving of your medals.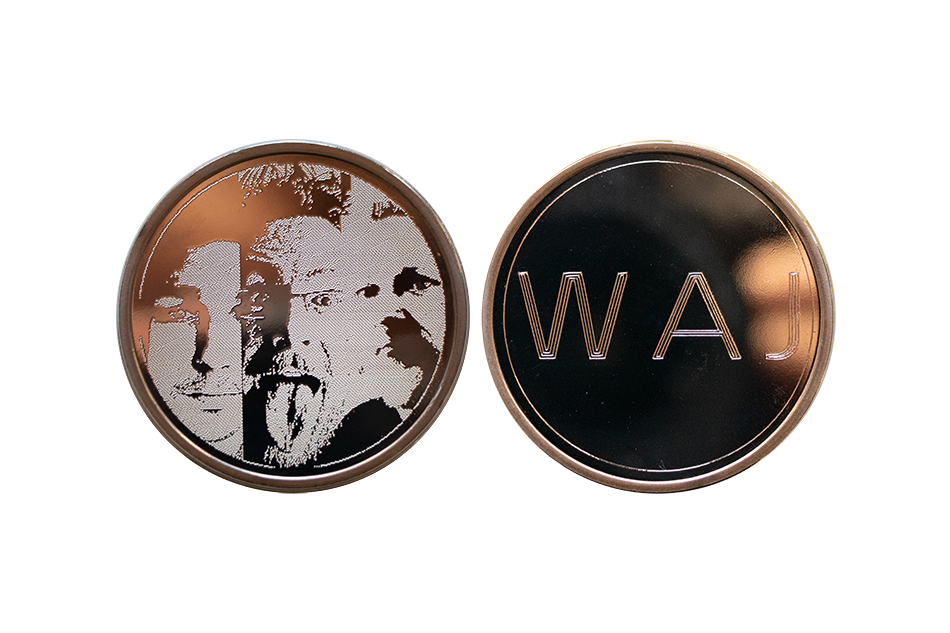 Also, we perform high-quality engraving on
bespoke coins made of ordinary metals.
Contact us
to inquire about the various options available at Coin-USA to engrave a single coin for you.
Finest Collector's Quality Embossing of your Unique Coin
Custom coins starting at one piece coming out of our mint are the finest bespoke coins one can think of. Many customers choose them because the image on the embossed single custom coin is appearing in volume and looks quite realistic, while remaining a unique piece of art and craftmanship. Our specialists are ready to emboss custom coins for you. Our favorite polished plate finish looks 3D while it is 2D only. For real elevations we would die-cast your single coin. Both look amazing and will be able to fully reveal your design. You can take a look at examples of such collector's quality coins in our gallery to get some inspiration, as well as a glimpse of the finishes and extras we can do.
Personalized Photo-Print on Your Single Custom Coin
An individual coin, with a good photo on it, is always a great commemorative gift. At the same time, it is quite a budget option that will cost you less than a precious metal coin. In the meantime, a photo-printed coin has no less sentimental value than a solid gold or silver single custom coin. After all, it depicts people dear to the customer or the client themselves.
Our team will be happy to make for you colorful photo-print coins, protected by a dome made of epoxy.
Purchase a small quantity of bespoke coins or a single custom coin from the experienced coin maker Coin USA. We know how to make your personal coins special!
The Most Common Occasions to Buy a Single Custom Coin
We have years of experience in minting bespoke coins. During that time, our team has worked with numerous different customers. They've come to us with a broad range of projects, most of them require big coin runs of several thousands of pieces. Yet we are also happy to work on more private single custom coin projects. Obviously, each of the medals we have minted has been timed to a specific event. These can be all kinds of anniversaries, birthday parties, weddings, gender reveal bashes and baby showers, baptisms, Bar Mitzvah and any other celebration of faith, Mother's and Father's Day, and many more noteworthy private occasions. We are aware that your affair to purchase a single custom coin is of the utmost importance to you, may even be confidential as the piece is supposed to be a surprise and reception of your product in the shortest possible delay being crucial. Be ensured, we are always eager to fulfill your expectations.
We don't set an MQO. You can purchase custom coins starting at one piece at Coin USA.
Single Custom Coin: When Size and Appearance Matter
Coin USA is constantly expanding production capabilities for the fullest customization of coins project. With us, custom coin production starts at only one piece. One aspect that is very important and often differs from project to project is the size of the coins.
And, because we are always going along with the customer, we can make your custom coins starting at one piece in drastically different sizes. As we work the metal in our own facility, your commemorative medals can be as small as a pearl bead or the size of an actual plate. We manufacture coins ranging in size from 10 mm to 250 mm.
We created a multifunctional instrument called the Coin Configurator. It provides the possibility to craft the mock-up of your single custom coin yourself.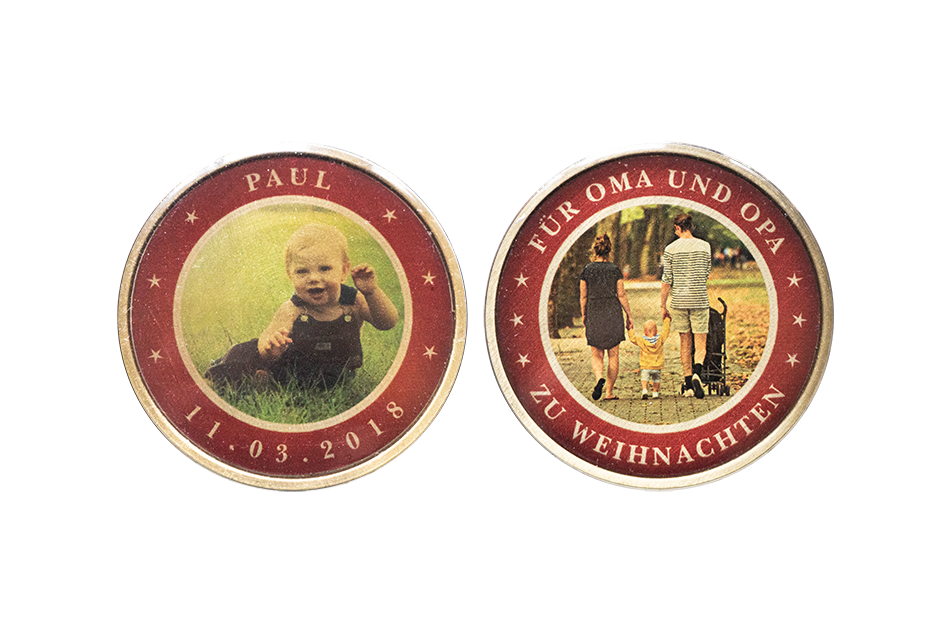 High-End Custom-Made Coins from Coin USA
As a passionate coin maker, we are deeply committed to what we do. It is extremely important to us that every customer who turns to us receives fully customized coins in premium quality. That's why we offer a huge number of coin design options that can be changed, added, and experimented with. Thus, you can also add to your single custom coin a c colorful details in hard or soft enamel, unconventional coin edges, and gorgeous finishes.
To make your bespoke coins look even more special, pick up some luxury coin packaging or coin display to impress even more when handing over your unique gift.
Our team can't wait to work with you. Contact us now to have us answer all your questions and get to work as soon as possible!