Let us Emboss Your Face on a Coin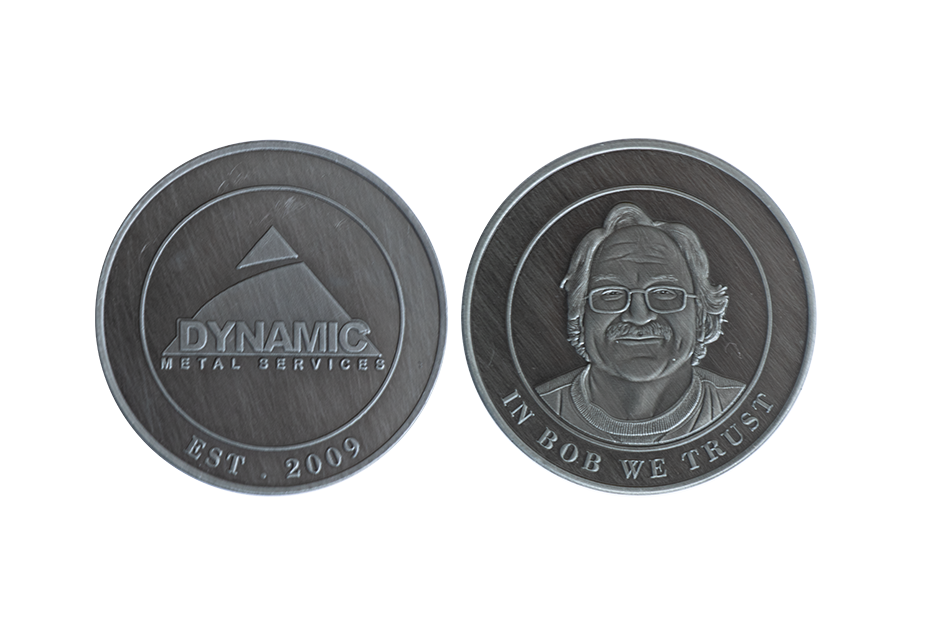 Is there an ideal, fully personalized gift? Yes, this is your face on a coin. Trust our professional team at Coin USA to make an exceptional photo coin for you.
If you've been thinking for a long time about how to creatively mark an important event, we offer a great solution — put your face on a coin. By stamping a photo on a coin, you can get a worthy gift that will fill the recipient with appreciation and delight.
As true craft masters, we guarantee a high level of order execution and an unsurpassed result. Also, our team gives you the opportunity to order a small number of custom coins or even one single photo coin. There is no minimum order with us! Contact us for more information.
Having Your Face on a Coin? Easy!
Needless to say how precious photographs are to people. Each of us enjoys looking at them and cherishes them with affection. We invite you to transfer the dearest to your heart and significant moments worthy of a long memory on custom-made coins. Have us mint your face on a coin and get a classy gift for yourself, your loved ones, or colleagues at work.
What Is a Perfect Event to Put a Photo on a Coin?
There are countless reasons to stamp your face on a coin. Here are a few of the most common ones:
VIP receptions;
Special corporate events;
Anniversary banquets;
Jubilee celebrations;
Wedding ceremonies;
Graduation parties;
Birthday/bachelor bashes;
Baby showers, etc.
Our Team Offers 3 Ways of Placing Your Face on a Coin:
Artistic photo printing in color, secured with a special lacquer coating;
Exquisite photo engraving with our dotting technique, performed on precious metal coins. Colors are not available for this option;
Collector's coin quality: We die-cast or mint your photo on a coin. Always recommended when you wish to purchase an entire run of photo coins. We are happy to make your custom commemorative coins in the size and metal of your choice. We can also add details by using enamel colors if you wish so.
Find out How We Mint Your Photo on a Coin
The production of coins with your face takes place in several stages. They are briefly described below:
Virtually Designing your Photo Coins;
Preparing Metal for Custom Coin Mintage;
Additional Refinement: Photo Printing, Custom Dot Engraving, Embossing or Die-Casting your face on a coin.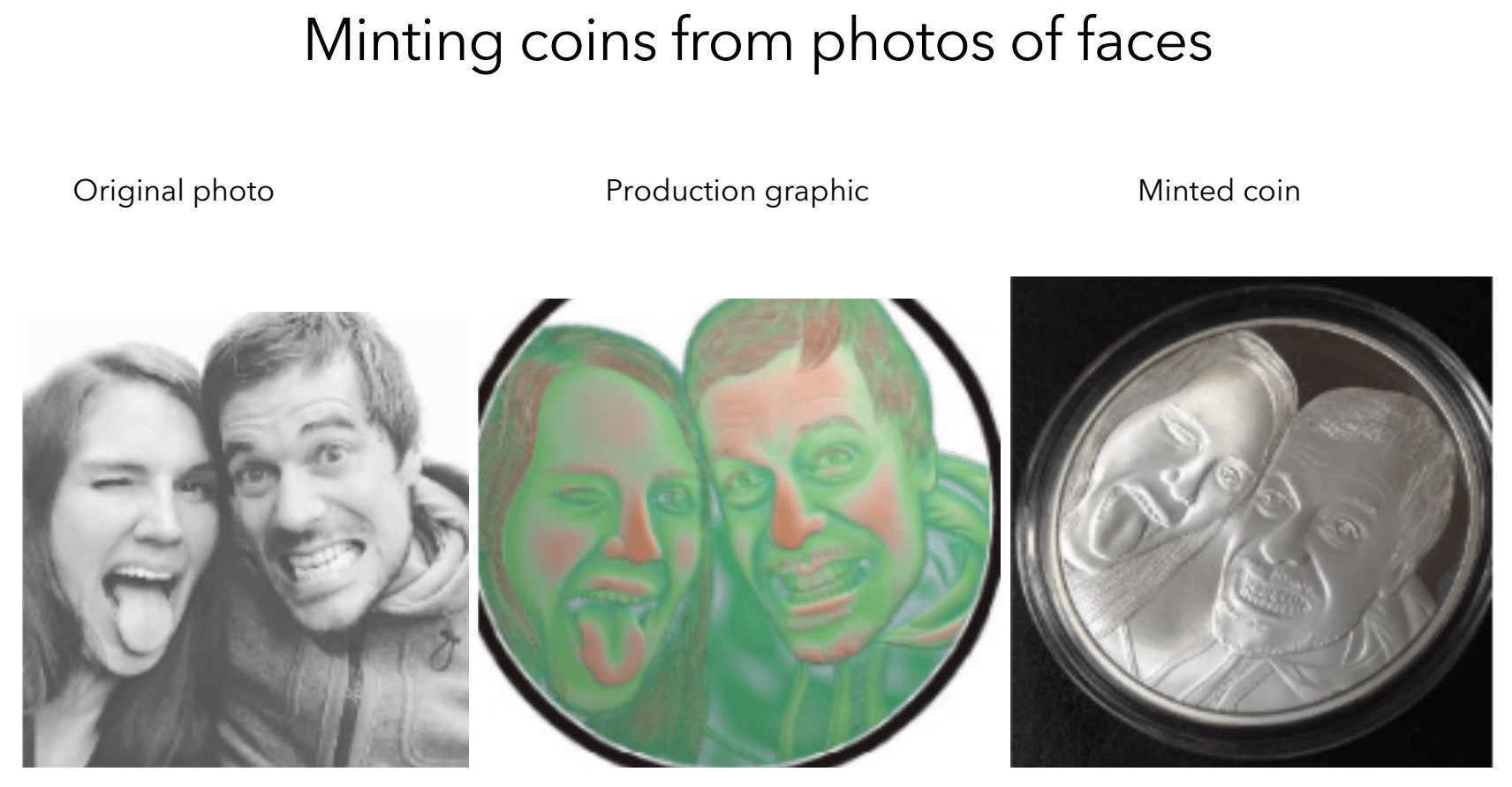 1. Virtually Designing your Photo Coins
In the first stage of work on photo coins, our coin designers take over the matter. They prepare a layout graphic based on the original photo provided by the customer. For projects that require to emboss your face on a coin, the obligatory approval of the layout is followed by a technical mock-up of your future coin. This production graphic states the needed elevations and is further used to prepare the minting tools.
2. Preparing Metal for Custom Coin Mintage
Minting coins of faces consists, of course, of more than just creating a design. Once it has been created and our customer is completely satisfied with it, we proceed to the preparation of the metal. It is sent to our in-house melting furnaces where the selected metal is subjected to a temperature of about 1000 degrees Celsius or more, depending on the alloy. But what happens afterwards, you ask, how do you form the custom photo coins from liquid metal?
It happens in a few more steps. The liquid but already cooled metal is squeezed out of the furnace into thin plates. They have exactly the thickness we to make the exact custom coins you ordered. Then, we cut the coin blanks out of these plates to emboss the photo of your face on them. None of the metal that remains after cutting the coin blanks is thrown away but sent back into the furnace for re-melting.
3. Additional Refinement
Depending on what exactly the customer wants their photo coins to look like, we subject them to further metal-plating before sending them on for the final touch: One of three types of applying your photo on a coin:
Printing of a Photograph
This technique is used when the customer wants an exact copy of their photo set on a single coin. To protect the print, we cover the coin with a dome made of epoxy. The result is a nice-looking artistic photo, covered with this special varnish, that gives your coin a nice and unconventional look.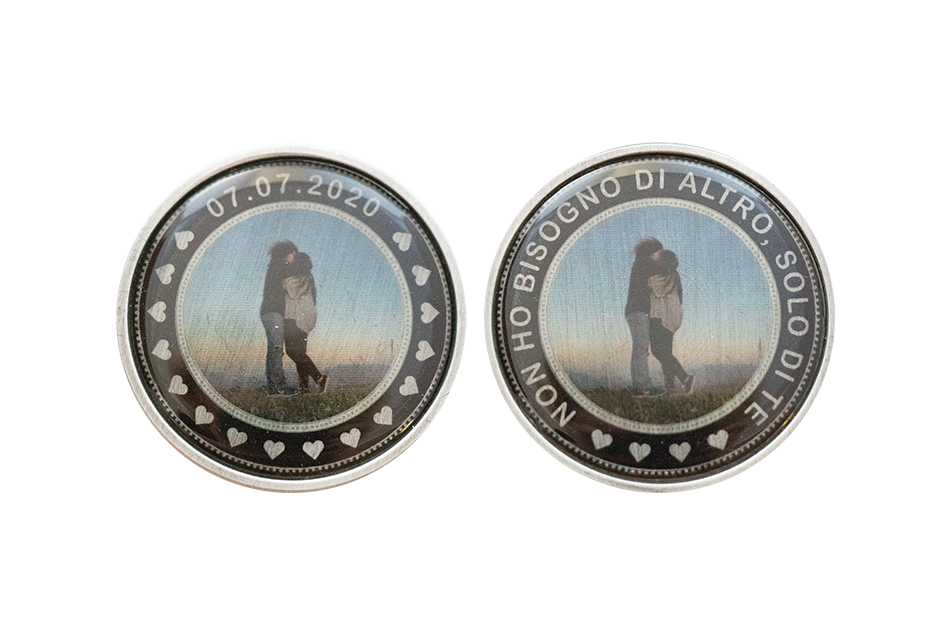 Custom Engraving with our Dotting Technique
For those who want their face engraved on the coin, we are pleased to offer a very true to the original outcome thanks to the modern technique of dot engraving. It is not possible to add colors to this option, as your design gets hammered into the metal with countless tiny dots. The metal-only design makes these photo coins look even more precious. Although we are open to requests to engrave a photo on a coin made of ordinary metal. We typically engrave coins made of precious metals (.999 fine silver and 24K pure gold).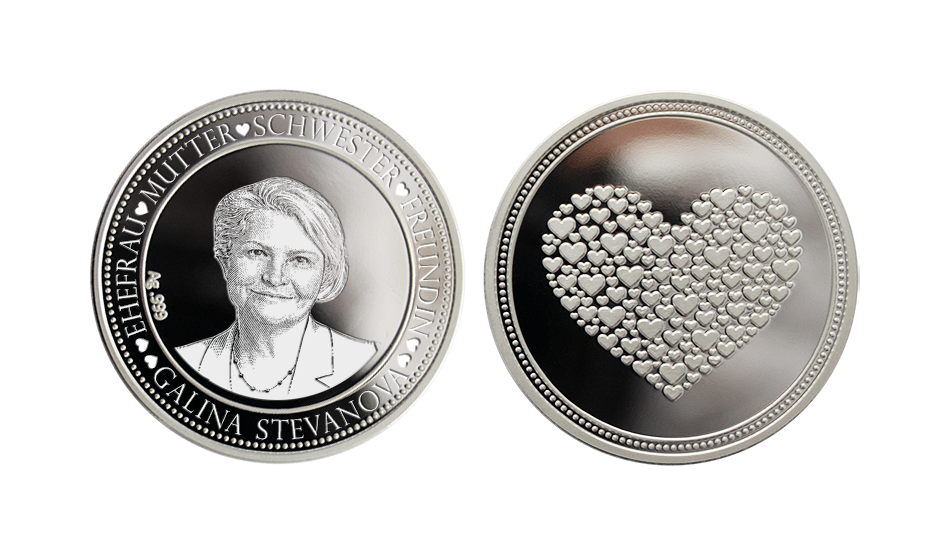 Embossing of a Photo Coin
Customers who wish for their photo on a coin to appear in 3D, or for everyone who is looking into purchasing not only a single photo coin, but an entire coin run of the same design, we offer high-quality custom embossing. That way, the photo is stamped into the metal with 3000 tons of pressure, for the best collector's quality minting results. For a real 3D coin, we can also die-cast your design from the metal of your choice, with polished, matte or antique finish. If desired, parts of your photo coins can be highlighted with enamel colors.
Embossing is a manual craft, each design is genuine artwork, as the individual mold is handcrafted by our team.




5 Reasons to Have Us Mint Your Face on a Coin
Here are 5 reasons to choose Coin USA for stamping your custom coins:
Our team consists of top-class experts deeply dedicated to their craft;
In our facility, we only use the finest state-of-the-art equipment to mint our client's face on a coin;
Our specialists closely monitor the quality of minted photo coins; from preparing the liquid metal to safely packing up the finalized custom coin order for shipment;
There is a wide choice of metals for minting your face on a coin, including precious metals (.999 fine silver, 24K pure gold and palladium);
We have no minimum order for minting high-quality photo coins.
Gorgeous Packaging
Beautiful coin packaging is like the cherry on a cake, it completes the image. To make your photo coin look e even more impressive, we can offer you a great number of premium Coin Packaging variants. We're certain you'll find the fitting box for your custom coin.
Coin USA's Professionalism as a Coin Maker in an Online Tool
We invite you to use our Coin Configurator to make your individual coins look exactly as you would like them to. We place a great deal of importance on working with the customer during the process of getting your face on a coin. At each step of the process, we discuss with them whether everything meets their wishes and requirements. Our team takes great care to ensure that all custom pieces are of the highest quality.
We'd like to remind you that we have no minimum order! Contact us to learn more.
Disclaimer: Our products on this page are known as "Coins" in order to comply with general linguistic usage. It should be expressly pointed out that it concerns, however, individually embossed medals and no current or former means of payment/currency.