Get Your Custom Commemorative Coins Made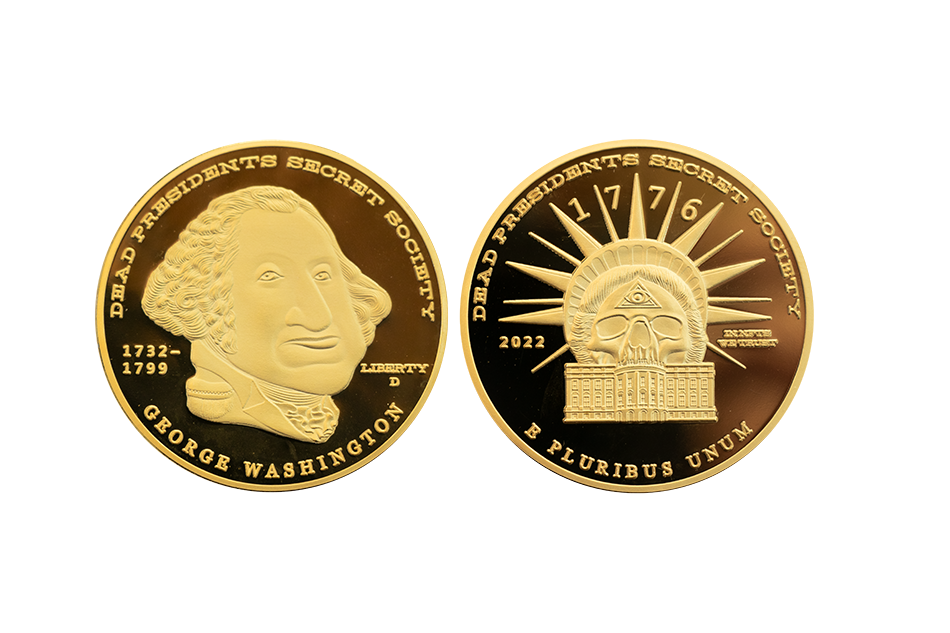 Order exquisite custom commemorative coins from professional coin maker Coin USA. A wide range of metals, enamel colors and more are at hand for your project
The Art of Coinage: From a simple Idea to Your Custom Commemorative Coins
Manufacturing coins, or "coinage" is one of the oldest arts. And like any art form, it has evolved along with people. Over the years, masters of coinage have honed their skills and technology has improved. It is believed that the earliest commemorative coins are those created by the craftsmen of Ancient Greece. Coinage was and is considered a prestigious occupation and demanded from the master a really great skill and presence of artistic taste. In comparison to their antique counterparts, modern custom commemorative coins stand out by their regularity and precision when setting a special design into metal.
Nowadays, a lot of technical equipment is used in a mint, some is even automated, but at the same time, the hand of the master is still needed. For instance, it takes talented coin designers to create a harmonious design for personalized coins. Coin USA is an experienced and certified coin maker that has perfected the coin manufacturing process to the point where everyone involved clearly plays their part and puts their heart and soul into the production of your custom commemorative coins.
Production of Custom Commemorative Coins in the 21st Century
Custom commemorative coins, in most cases, are perfectly round. As regularity has been established as a standard many modern mints work with pre-stamped standardized coin rounds. We run our own furnace, which allows us to make the coin blanks for each project exactly as they should be: tiny, huge, round, oval, edgy, with a hole, or in any other irregular shape you may think of. Custom commemorative coins make an extremely solid keepsake that is a great gift for weddings, anniversaries, graduations, local or national festivals, corporate events, product launches, or any other important event. A valuable advantage of these exclusive creations is their versatility. We provide unlimited freedom to choose from different materials, pure precious metals or other alloys, for your custom commemorative coins. You can order custom coins with any design on the obverse and reverse sides. Let us introduce you to the world of coinage.
Our Favorite Materials for Your Personalized Coins
We are happy to announce that our customers have many options to choose from when it comes to deciding on the material for custom commemorative coins. At Coin USA, we mint custom coins from: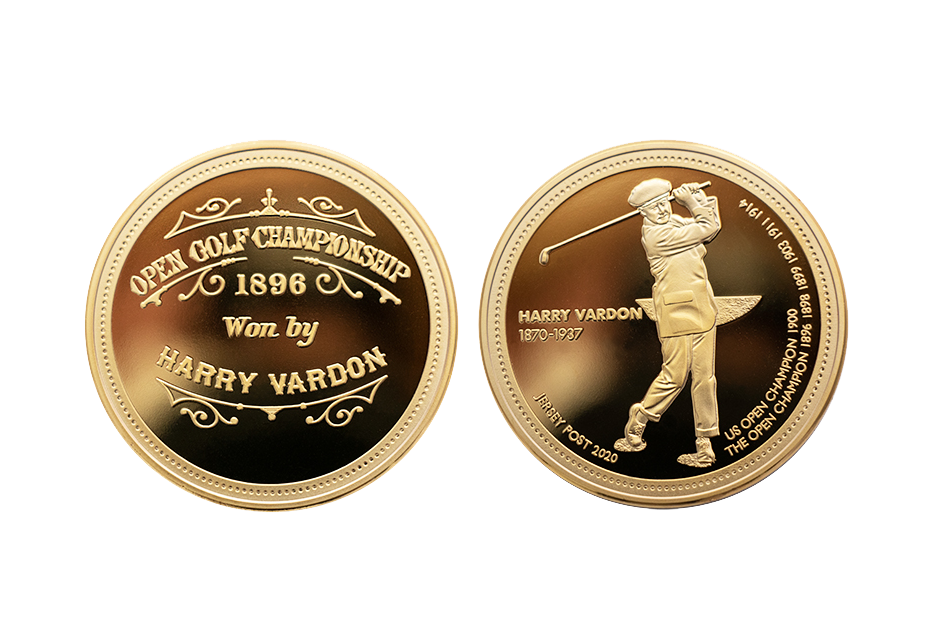 24K Gold;
999 Pure Silver;
Bronze;
Copper;
Brass;
Nickel;
Zinc.
Absolutely all of the materials mentioned are available for the custom production of your memorial coins. Depending on the size of your run and the timeline we need to respect, we can always experiment with other alloys. Please understand that this might involve longer lead times as it requires us to run tests before launching mass production of your commemorative coin project.
Commemorating Your Occasion with Your Own Design Minted on Coins
We absolutely love the special charm of embossed coins! Stamping your design onto the ideal coin rounds with hundreds of tons of pressure makes your coins, and with them the moment to be commemorated through them, almost ever-lasting! Our custom-made commemorative coins look fascinating and are sure to please a future owner with their shiny beauty or antique authenticity. If preferred, we can also die-cast your coins. This allows us to work with higher elevations as we pour liquid metal in a previously mill cut coin die. When cooling down, the used metal hardens, while keeping the desired shape.
Premium Finishes for Your Perfect Custom Commemorative Coins
Individual coins would not be so special if they remained simply embossed pieces of metal. To give them an exclusive touch, our coin makers work precisely on every single piece: Choose among our premium polished plate, antique, sandblasted, matte, sandblasted and polished, entirely matte, or entirely polished options. Have a first glance at those in our gallery. Yet, you will mainly see our polished plate finish: Even when working with only two main levels, these designs appear to be 3D sculptured. We have never heard of any client being unhappy with their order.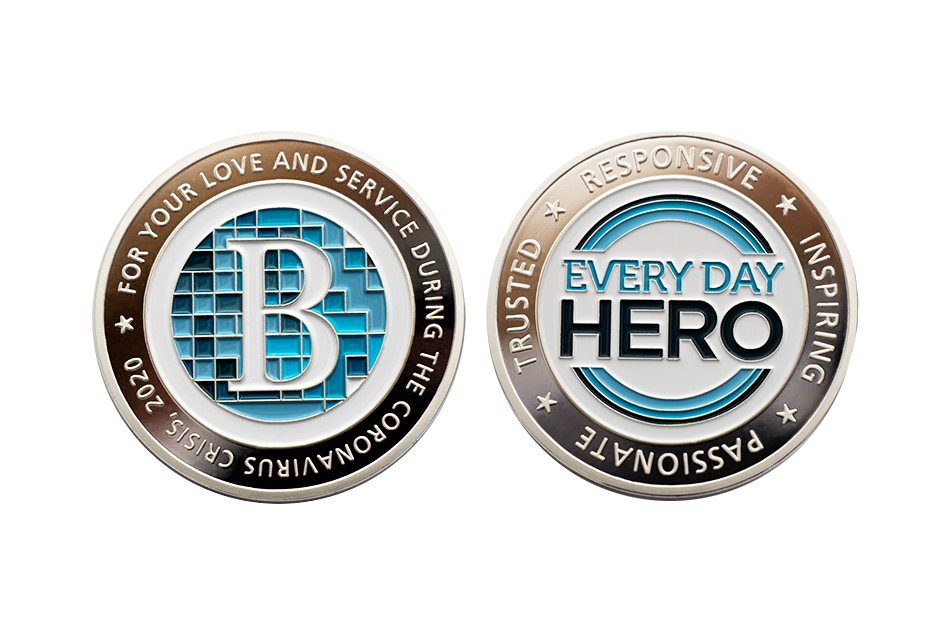 Commemorating with Colored Custom Coins
Hard & soft enamel coins are excellent at rendering colorful images, logos, coats of arms or symbols depicted on them. What's more, colored coins, like nothing else, are able to emphasize the respect and appreciation of the person for whom they were created. Traditionally, they are a common way to pay tribute to distinguished members of the armed forces, these are called challenge coins. Coin USA masters both: impressive hard enamel and glossy soft enamel colored highlights! Simply tell us which one you prefer.
Depending on the look you wish your coin run to have, we can also print directly on the metal. Our team is happy to guide you through all options, such as you get your coins manufactured exactly as you envision them.
Border Designs for Custom Coins
The smallest details make luxury products what they are. To turn your custom commemorative coins a true work of art, our company has an impressive selection of pre-conceived border design options:
Swirl edge;
Diamond wave edge;
Ribbed cut;
Wide edge;
Wave cut;
Diamond cut;
Triangle edge;
Petal edge;
Chain edge;
Rope edge;
Edge Text
Coin Boarder or 3rd side text, embossed or laser engraved.
If even in this long list of possible individual coin border designs you have not found something you like, we can make something completely new for you — a customized coin border or edge. Make sure you bring up the topic with our team of coin designers. They are ready to bring any vision you have for future personalized coins to life.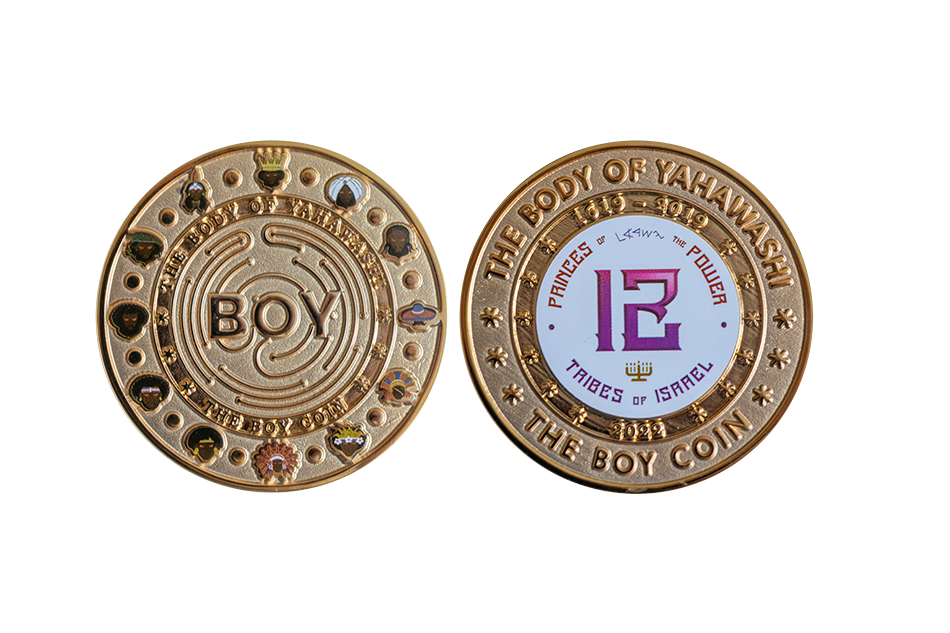 All these options sound too good to be true? Try it and get your custom commemorative coins made by coin maker Coin USA
In our facility, we produce personalized commemorative coins of any complexity and any quantity, starting at one piece! There is no restriction whatsoever imposed on the number and design of your pieces to be manufactured. Many wish for a single piece first, as a sample, before placing a big order. We understand you need to trust a coin maker, thus our clients are free to summon even just this single piece. We are also happy to send you samples of previous custom coin projects we realized. Custom commemorative coins from our mint always impress and delight by their uniqueness.
Coin USA Makes Art Tangible
We can't wait to craft your run of custom commemorative coins and medals that include any of the aspects described (materials, finishes, embossing, coloration, and border designs). Every coin mintage project is an exciting journey for us. We take all of them with utmost professionalism and creativity and are prepared for your challenge. Any idea you have — we are ready to implement it! With us, it is possible to mint custom coins of completely individual shapes and sizes. To give us a concept of your future coins, you are welcome to use our Coin Configurator.
Disclaimer: Our products on this page are known as "Coins" in order to comply with general linguistic usage. It should be expressly pointed out that it concerns, however, individually embossed medals and no current or former means of payment/currency.