Diplomacy Coins: When Nations Stand Together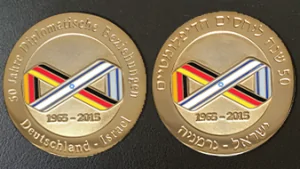 Explore the story of the creation of individual diplomacy coins below. Coin USA is a professional coin maker offering quality services to its customers.
Diplomatic relations between the two countries show mutual recognition of their sovereignty, and territories. They illustrate their peaceful cooperation in the international arena. Diplomacy coins immortalize these aspects and are often issued to commemorate the anniversary of these very diplomatic relations. Typically, diplomacy coins contain the involved nations' flags or otherwise refined in appearance. We have already minted diplomacy coins with important elements such as the countries' national symbolic, their crests, distinctive features like a national animal, or even the initial treaty negotiators' signatures.
Celebrating with Custom-Made Diplomacy Coins
In celebration of 50 years of diplomatic relations between Germany and Israel, the Israeli ambassador handed over 50 custom-made diplomacy coins. They honored diplomats for their outstanding achievements. Both, Germany's Federal Minister of Foreign Affairs Frank-Walter Steinmeier, and the daily newspaper "Bild", represented by its publisher Kai Diekmann, have been awarded diplomacy coins in that context, emphasizing political and civilian relationships. The coins represent a long and trustful diplomatic relationship and shared values between Israel and Germany.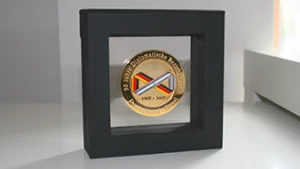 Admirable Design of the Diplomacy Medals
Mutual respect and support are solid values, incorporated by this custom run of diplomacy coins. We made solid heavy bronze coins of 50 mm in diameter and 3mm in thickness. The 24K gold plating emphasized the importance of the event. The sandblasted background and polished border guide the eye to the embossed lettering in Hebrew and German. The never-ending cooperation illustrated with the flags, colored with hard enamel, forming a union. The strong symbolism of these diplomacy coins points out the emotional attachment shared by the two countries.
Ceremonial Handover of Diplomacy Coins in Premium V19 Coin Frame
To make both sides of the diplomacy coins' design and inscription easy to admire, we placed them in our popular V19 coin frames. Those are great options to display custom-minted coins on one's desk and remember the ceremony for a long time. Our V19 coin frame is certainly our customer's favorite coin display as it both protects and presents not only diplomacy coins, but any kind of custom-made coins and medals. It ensures their commemorative function as the gift is certainly not disappearing in one's drawer.
Browse our website to discover other handy and pretty Coin Packaging solutions, right after designing your set of diplomacy coins yourself in our Coin Configurator. The online tool makes it super easy to prepare a first sketch of your own precious metal coins' design already today!
Disclaimer: Our products on this page are known as "Coins" in order to comply with general linguistic usage. It should be expressly pointed out that it concerns, however, individually embossed medals and no current or former means of payment/currency.