Custom Challenge Coins: Heroism Captured in Metal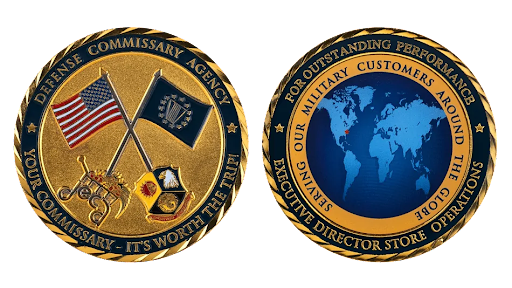 Coin USA is a trusted, experienced, and certified challenge coin manufacturer. We turn your custom challenge coins ideas into solid and stunning tokens.
Members of the armed forces regularly show extraordinary loyalty to duty. In honor of this unwavering loyalty, the military is often presented with unique custom challenge coins. These commemorative coins become valuable mementos and serve as tokens of affiliation with a particular unit. Coin USA is a professional challenge coin manufacturer and eagerly mints custom challenge coins for the armed forces.
Custom challenge coins have a special value to the military. Not only do they serve as a reminder of the alliances made during service, but they are symbols of survival and endurance, often against incredible odds. Custom challenge coins are a testament to a career dedicated to protecting and serving the civilian population.
The First Custom Challenge Coins
According to legend, the first custom challenge coins were issued not by a professional challenge coin manufacturer but by a wealthy Air Force lieutenant and presented to his squadron at the beginning of World War I. Made of solid bronze, custom challenge coins were used as proof of loyalty in crossing into friendly territory when one of his squadron members was shot down behind enemy lines.
Thus, the original custom challenge coins were utilized as a means of protection, in some cases, literally saving the lives of young fighters. From there, custom challenge coins began to be issued to all military units, from the Army and Navy to the Marines, and Coast Guard. The custom challenge coins became symbols of affiliation and pride. Frequently, a challenge coin manufacturer produces individual challenge coins to commemorate exceptional acts of valor. Therefore, the value of the custom challenge coins to many servicemen is simply priceless.
What Do Custom Challenge Coins Look Like?
Custom challenge coins are designed to best reflect the accomplishments of the service members to whom they are awarded. While this means custom challenge coins come in a variety of shapes and sizes, they usually include the following elements:
A service unit emblem, shield, or logo, often covered in colored enamel;
A phrase, motto, or slogan associated with the unit;
A specific squadron or unit name or number.
A challenge coin manufacturer can mint custom challenge coins in a myriad of different metals. However, many are made from precious metals such as 24-karat gold, 999 silver, or brass to pay tribute to the service heroes.
Custom Challenge Coins Made by Coin USA
Coin USA is a trusted challenge coin manufacturer. We're proud to have crafted custom challenge coins for a wide range of military personnel. Here, we understand the importance of creating the perfect custom challenge coins. So, there are practically no limits with regards to the kind of custom challenge coins Coin USA can produce to celebrate the members of our military. Take a look at some of the stunning custom challenge coins we've made in the past to get an idea of how versatile and striking well-crafted custom challenge coins can look.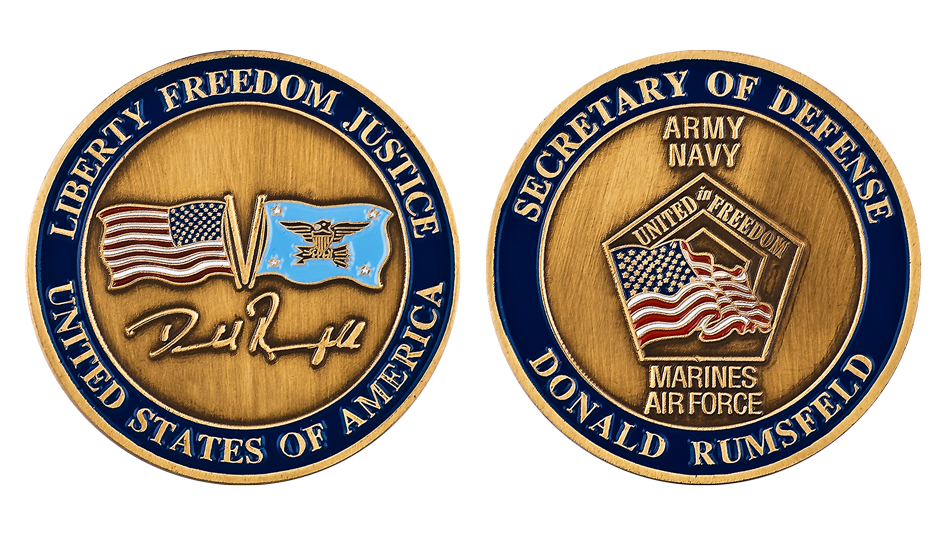 The Donald Rumsfeld Custom Challenge Coin
The stunning Donald Rumsfeld, Secretary of Defense, custom challenge coins were made from nickel and embossed in a minimal yet striking color palette. They were presented to service personnel operating in the Army, Navy, Marines, and Air Force during Bush Jr.'s presidency between 2001 and 2006. The custom challenge coins had the poignant slogan "united in freedom" engraved above the American flag on the front side. On the back side of the custom challenge coins, there was Donald Rumsfeld's signature beneath the American and the Secretary of Defense flags. The challenge coin manufacturer made these custom challenge coins to be a truly magnificent and timeless memento.
The BAE Systems Chartered Engineer Custom Challenge Coins
Coin USA, as a certified challenge coin manufacturer, created custom challenge coins to honor the maritime services of the BAE Systems Chartered Engineers. Made from bronze and plated in precious 24K gold, those custom challenge coins boast a remarkable unicolor finish and minimal text elements (including just the division and the organizational titles). The simplicity of the custom challenge coins' design is then expertly offset by the complexity of the engraved images: The HMS Victory on one side and the HMS Elizabeth at sea on the other.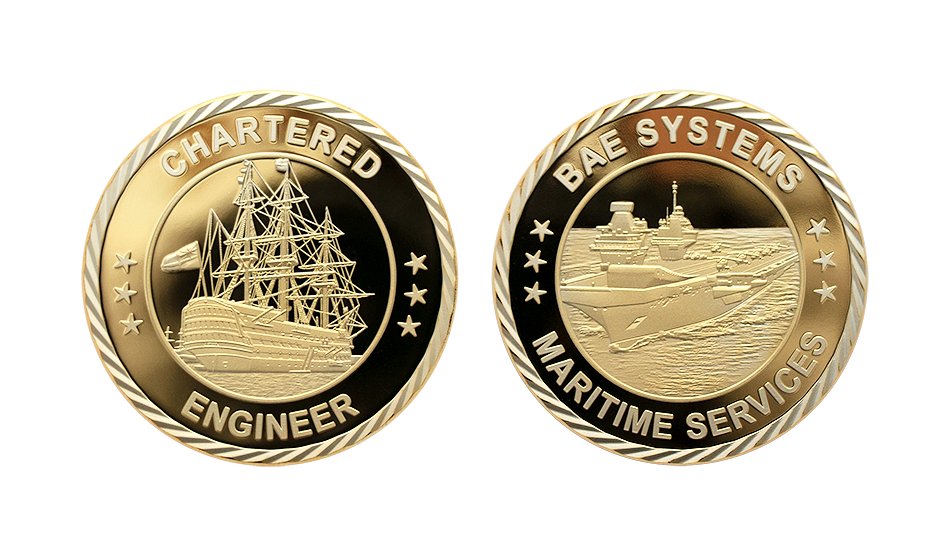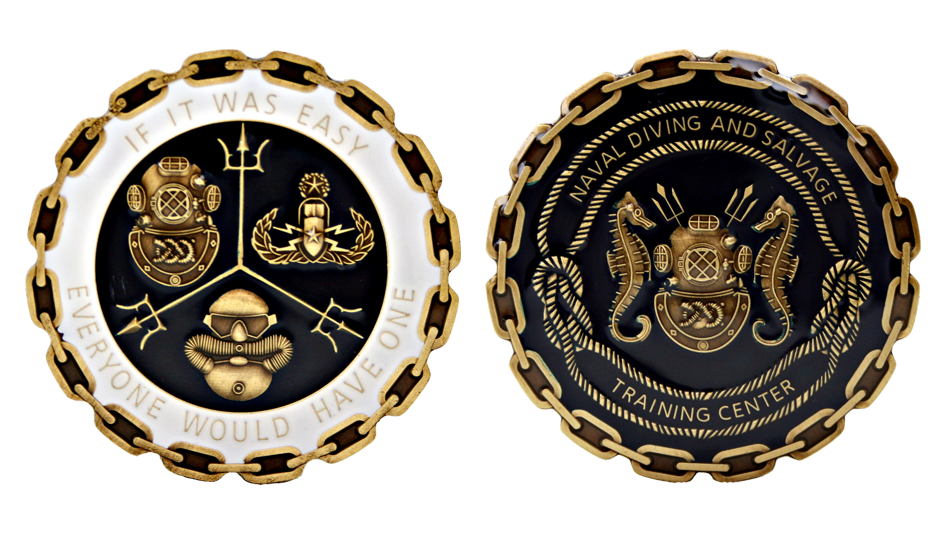 The Naval Diving and Salvage Training Center Challenge Coins
These custom challenge coins are different from those described above. They were given to those who attended the US Navy Training Center in Florida, rather than directly to the military that served. The challenge coin manufacturer minted commemorative coins with a number of charming elements, but the chain-link edge of the coins really takes it to the next level. The custom challenge coins are made of bronze and decorated with elegant navy-blue enamel on one side and white navy enamel on the other. These stunning custom challenge coins are sure to take pride of place in the center of the mantelpiece or trophy cabinet.
A skilled challenge coin manufacturer is ready to get started with YOUR coins production. Head over to our Coin Configurator and get to create your coin design idea. Don't worry if you're not sure how you want your final custom challenge coins to look. Our coin designers will use your initial sketch to help you create something truly striking and utterly timeless.
Contact us now!
Disclaimer: Our products on this page are known as "Coins" in order to comply with general linguistic usage. It should be expressly pointed out that it concerns, however, individually embossed medals and no current or former means of payment/currency.