Custom Covid-19 Coins for Crucial Workers of the Pandemic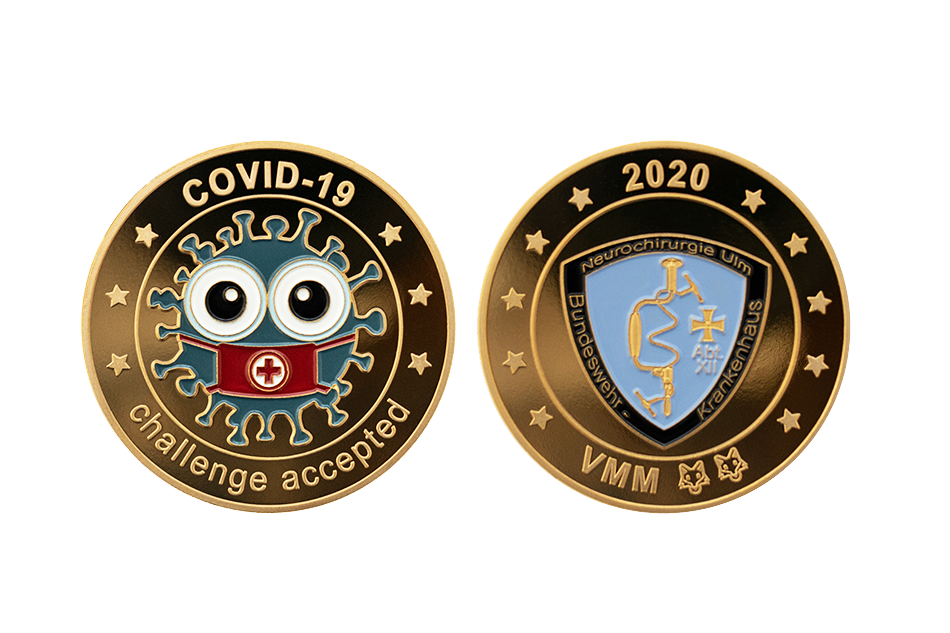 Heroes who played a key role in fighting the Covid-19 pandemic are awarded custom commemorative coins. Personalized Covid-19 coins with logos embossed on precious metals.
Every hero's service should be honored. Especially if their service benefits the broad public. One of the best options for a memorial present would be custom commemorative coins. Precisely such gifts marked the merits of key workers of the invisible fight against the terrible COVID-19 pandemic that swept the entire civilized world. In today's article, we will tell you about the icons of our time who received customized Covid-19 coins minted by Coin USA. Each of the health institutions contacting us wanted to show appreciation and commendation of their staff's devotion to aiding others during the pandemic.
Celebrating Medical Staff with Customized Covid-19 Coins
Healthcare workers are risking their lives more than anyone else in this turbulent time, and their efforts deserve to be rewarded. When contacted by an institution searching to thank their employees with a keepsake, Coin USA is happy to mint these COVID-19 coins as a reward for their commitment. These heroes are working hard to help those who already suffer from COVID-19.
Administrations of medical facilities turned to Coin USA to order custom commemorative coins for their staff. They wished to recognize their employees' dedication and professionalism in the face of the pandemic.
Most Covid-19 coins we minted so far consisted of a bronze core and were plated in pure 999 silver
. As most military or service challenge coins, we make them rather big, with a
diameter of 50mm
. To make them look even more remarkable, we decorated the
Covid-19 coins with our polished plate finish
. To raise awareness and promote widespread vaccination against COVID-19, custom commemorative coins were also handed out when hospital employees first got vaccinated. To add to the importance of the historic event, the award ceremony was held right in front of the disease testing equipment. Covid-19 coins are convenient keepsakes as they can simply be carried in small pocket and accompany the person anytime.
Honoring the Armed Forces with Custom Commemorative Coins
City officials decided to pay tribute to the military personnel with specific Covid-19 coins as a reward for their implication in the coronavirus testing centers' establishment and provision of their full operation. These custom commemorative coins were meant to express the citizens' appreciation for the work done by the military.
City authorities wanted to give the finest custom commemorative coins of the highest quality, so they enlisted the help of Coin USA. We minted bronze custom commemorative coins in a sandblasted finish at their request. Together with our coin designers, the city hall decided to have the front side of the Covid-19 coins decorated with soft enamel elements, using the color palette of the city's emblem, completing the image of the town's hospital minted on the Covid-19 coins. The custom commemorative coins were handed out to the soldiers by the mayor of the city.
Covid-19 Coins to Thank the Ambulance Service
The ambulance service is the first to answer the call for help in hospitalizing people contracted COVID-19. To mark their selfless labor and widespread heroism, it was decided to award them with customized Covid-19 coins. The emblem of the ambulance service was minted on the front side of these custom commemorative coins, refined with a completely matte finish for a sophisticated look.
Of the many options available, our customers have chosen V19 frames as support for the custom commemorative coins to be handed out. Together, they created a marvelous gift filled with symbolism and appreciation for dedicated labor. To emphasize the importance of the event, each of the coin frames included a certificate from the ambulance service director. The Covid-19 coins' purpose is to serve as a reminder of the pandemic and the devoted work of the ambulance service during this intense period.
Custom Commemorative Coins to Pay Homage to Pharmacists
Another group of COVID-19 fighters deserving recognition and custom commemorative coins are pharmacists. A pharmacy group providing at-home coronavirus testing services and delivery of masks, sanitizers, thermometers, and gloves was honored with customized Covid-19 coins. Their unflagging commitment was marked with 24-karat Gold plated pieces in 50 mm. The custom commemorative coins were handed out in a blue velvet box V10, also customized with the pharmacists' emblem on it.
Even if not Covid-19 coins, do you have a great reason to mint custom commemorative coins? Coin USA is ready to help you. Use our Coin Configurator to model a draft of your ideas and our coin designers will make them a solid piece of art! Contact us now!
Disclaimer: Our products on this page are known as "Coins" in order to comply with general linguistic usage. It should be expressly pointed out that it concerns, however, individually embossed medals and no current or former means of payment/currency.