Corporate Christmas Gifts for Employees, Clients and Business Partners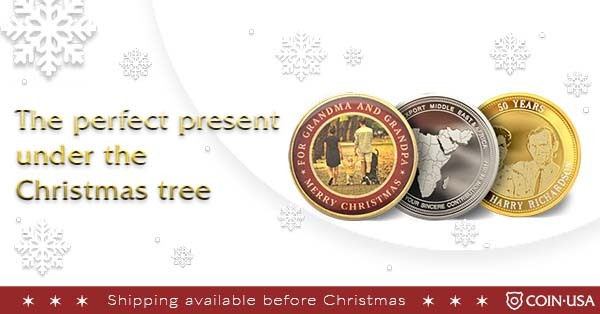 Custom-minted coins offer a distinctive touch for your corporate gifting this Christmas season. Logo-embossed coins are suitable corporate Christmas gifts for employees, clients, and associates. Christmas is the ideal time to express gratitude and spread festive cheer to those who make your business thrive.

Craft your own custom coins using our online coin configurator, presenting an exclusive twist to your corporate Christmas gifts. These personalized coins allow you to exhibit thoughtfulness and appreciation. Your employees, clients, and business partners will recognize the effort and attention to detail, making these branded gifts stand out.

What Makes Custom-made Coins Extraordinary Corporate Christmas Gifts?
Coins from our mint are more than mere pieces of metal. They give space to your personalized designs, featuring your corporate logo, special Christmas motifs, and heartfelt messages. They symbolize recognition and gratitude while offering lasting keepsakes. Our custom coins aren't just some corporate gift; they're a valuable addition to your branded gifting strategy.

Connect with Our Custom Coin Experts Now


Corporate Christmas Gifts On a Budget
Custom coins as corporate Christmas gifts for employees, clients, and associates are not only distinctive but also budget-friendly. Your expenses are well allocated, making the coins an economically savvy choice. We're here to help you understand all benefits and guide you through the coin design process.


A Touch of Personalization for Your Corporate Gifts
Whether you choose a consistent message, like your logo on one side and a "Thank you" on the other, or opt for a design that subtly conveys unity and collaboration, your corporate Christmas gifts will carry a personal message. Engrave names or brief individual dedications, and your employees, clients, and associates will feel the warmth and thoughtfulness in each coin.

Perfect for Corporate Events and Ceremonies
Corporate parties and events offer the perfect backdrop for presenting innovative gifts. Surprise your team or clients with custom coins, as Thorsten Dockweiler of Do-Care did in 2021, adding a dash of glamour to your festivities. These small tokens of appreciation enhance the sense of unity and loyalty among your staff and business associates.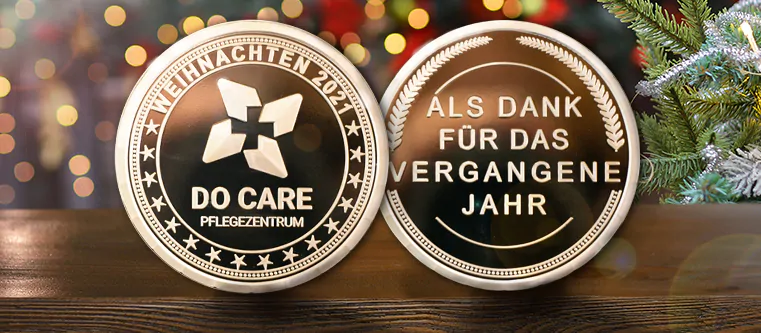 More Than a Great Christmas Gift Idea: Custom Coins are Versatile Gifts for Diverse Occasions
Once you've experienced the impact of these unique corporate gifts for Christmas, you may find yourself considering custom coins for various occasions. We can utilize the same tools to create coins for other events, making them versatile for all your gift ideas.

Connect with Our Custom Coin Experts Now

For more information on custom coins as corporate Christmas gifts for employees, clients, and associates, and to explore how they can become a cornerstone of your gifting strategy, reach out to our coin experts today. Discover the difference that a touch of personalization can make in your corporate gifting approach.