Make Your Ceremony Coins Unique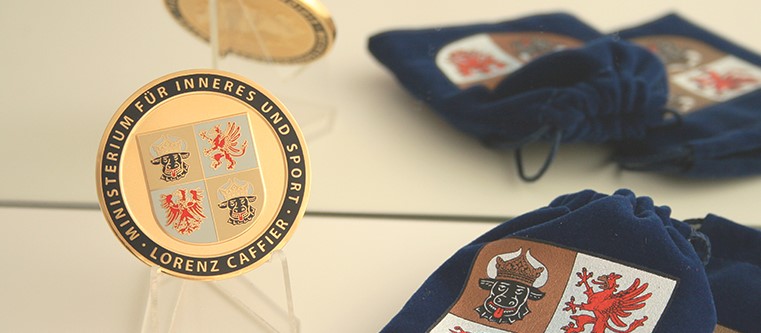 Make your celebration last in the attendees' memories. Customized ceremony coins with unique designs, also called event coins, are your valuable ally.
At Coin USA, we specialize in underlining how significant an event can be. We manufacture ceremony coins with custom designs for corporate, private, and even political events. Have your city's coat of arms, your family emblem or company logo embossed in precious metal coins by a proven coin maker.
Occasions and Customization Options for Having Ceremony Coins Made
A custom coin run, made exclusively as a keepsake for the invitees, is a perfect complement to any event. At Coin USA, we enjoy participating in the preparations of your celebrations. Our team emboss your designs on either solid precious metals, or another base metal with the plating of your choice. We gladly decorate your custom coins with the appropriate shiny, matte, antique or sandblasted finish. Our specialists highlight all details in enamel colors or even make the coins in different sizes or shapes. We'll do everything to convey with the coins for your ceremony the message you wish.
We have minted countless incredible pieces to honor high-ranking officials and their achievements in office. Handing out coins at ceremonies is a common practice all around the globe. Made from precious metals, ceremony coins serve an honorary mission, mark noteworthy politicians, public figures, civil servants, only to name a few examples.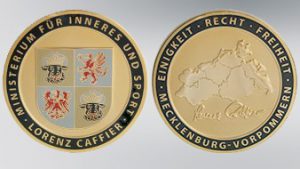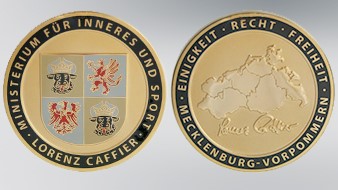 Why Choose Coin USA as the Producer of Your Ceremony Coins?
Our customers frequently order individually-minted coins to pay tribute to significant historical events in a country or region, special celebrations within a community, corporate anniversaries (or others), etc.
Custom coin runs for ceremonies are among the most frequent orders we count in our portfolio as a custom coin maker. It is extremely interesting for our team to learn more about your event and ensure to make the coins for your ceremony fit it perfectly. With years of experience under our belt we produce ceremony coins in various countries. Discover below a representative project that our team completed for the German federal state of Mecklenburg-West Pomerania.
Take a Look at Coins for Ceremonies Made by Coin USA
These German ceremony coins count 50mm in diameter and 3mm in width, made from a bronze core, plated in 24K Gold. The embossed base of the ceremony coins is complemented by highly detailed enamel coloring on the front and back sides. The outline of Mecklenburg-West Pommerania with the minister's signature appears on the front side. The back side was embossed with the federal state's coat of arms, highlighted through a sandblasted background. The coins for ceremonies' precisely applied hard enamel details allow the embossed crest to be placed perfectly on the background.
Festive Displays and Gift Packaging for Ceremony Coins
To ensure that not only the ceremony coins but also their packaging leave a great impression, the Mecklenburg-West-Pomeranian customer chose a dark blue velvet pouch with the coat of arms printed on it. Packed up in these spaces saving and protecting customized pouches, the coins for ceremonies have turned into a beautiful project that we are proud to have executed.
It is quite common for us to customize Coin Packaging or coin displays for ceremony coin projects. We can print your logo or other design elements on velvet pouches as described above, coin boxes made from a selection of materials, or set your custom coins in frames that allow to view their front and back side.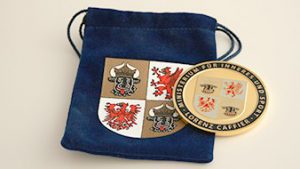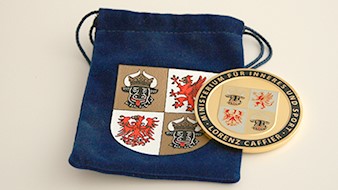 Coins for ceremonies of varying complexity are available at Coin USA! Head over to our Coin Configurator and try your hand at designing your own ceremony coins. Our coin designers will take care of this sketch to turn it into an individual masterpiece to remember.
Disclaimer: Our products on this page are known as "Coins" in order to comply with general linguistic usage. It should be expressly pointed out that it concerns, however, individually embossed medals and no current or former means of payment/currency.