Everything You Need to Know About Black Coins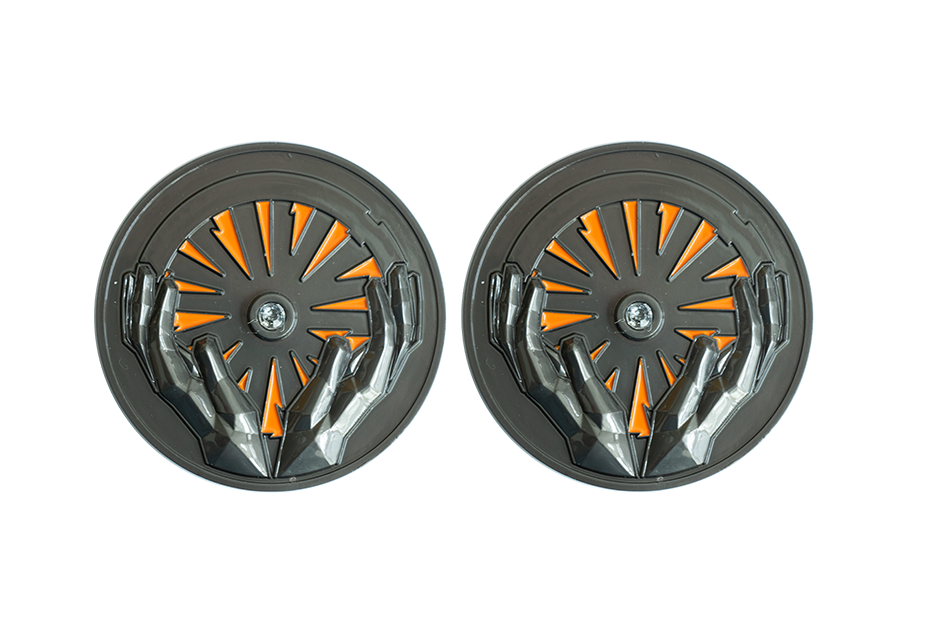 Looking for a present that will be long remembered? Custom black coins are the perfect match! Find out how Coin USA makes stunning coins in black.
Remember Coco Chanel's famous remark about the little black dress that every woman should have? We will go further and declare that everyone should have their own shiny stylish black coins! Of course, you can take our statement with a pinch of irony, but after reading our article on custom black coins, you'll likely change your mind.
Below, we will introduce you to various ways coin makers use to produce medals in black. Who knows, maybe you enjoy them as much as being tempted to order similar ones for yourself, your company, or your former army unit's comrades. Let's get started!
Individual Black Coins Are Beautiful and Affordable
After reading the headline, you might think we're being dramatic. It's simple, black coins are coins that are black in color. In that, we couldn't agree more. Obviously, you're right. However, do you know how coin makers give custom-made coins this noble shade?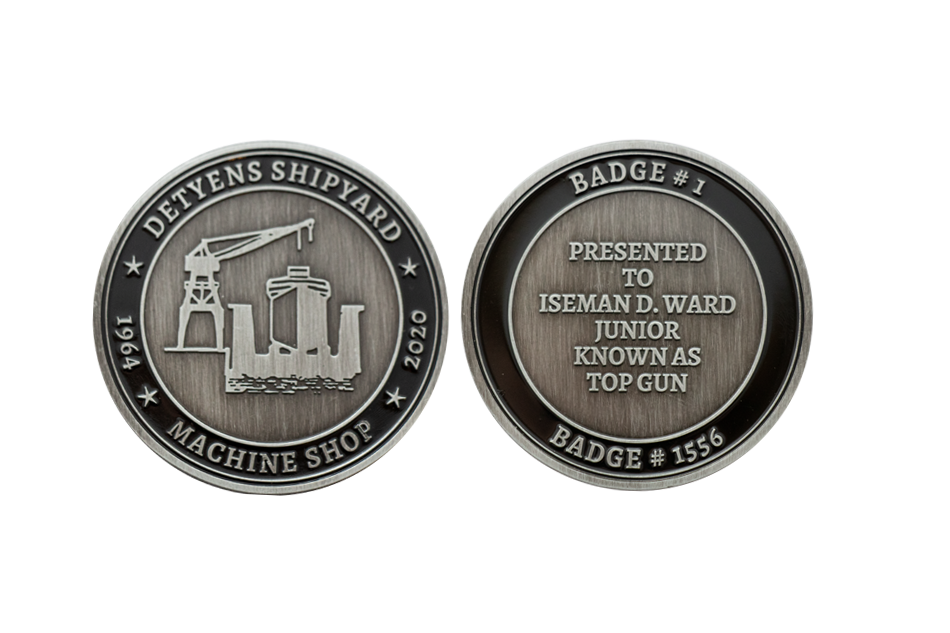 According to the way we make them, it is possible to distinguish the following categories of custom black coins:
Personalized coins with black nickel plating;
Custom black medals with a full enamel color coating;
Individual pieces with black print elements;
Oxidized silver coins are in demand for projects of antique coin reproduction. Although they are not pitch black, our customers often ask us for this specific look that old silver coins can get.
Personalized Black Coins with Matte Nickel Plating
The first type of customized black coins we will talk about is medals with black nickel plating and matte finish. Most often, we use bronze or brass as their base metal. These metals are great at maintaining various metallic coatings (including black nickel plating) and are comparatively easy to work with. Although, in their place can be any other common or precious metal. It all depends on the customer's wishes.
To give custom black coins their amazing black-nickel color, we use the technique of electroplating. This is a chemical process during which particles of the metal are permanently attached to the surface of the custom coin core. We stamp it beforehand with the custom coin dies made for each single project. Such a coating is permanent, resistant to external irritants, and minor damage.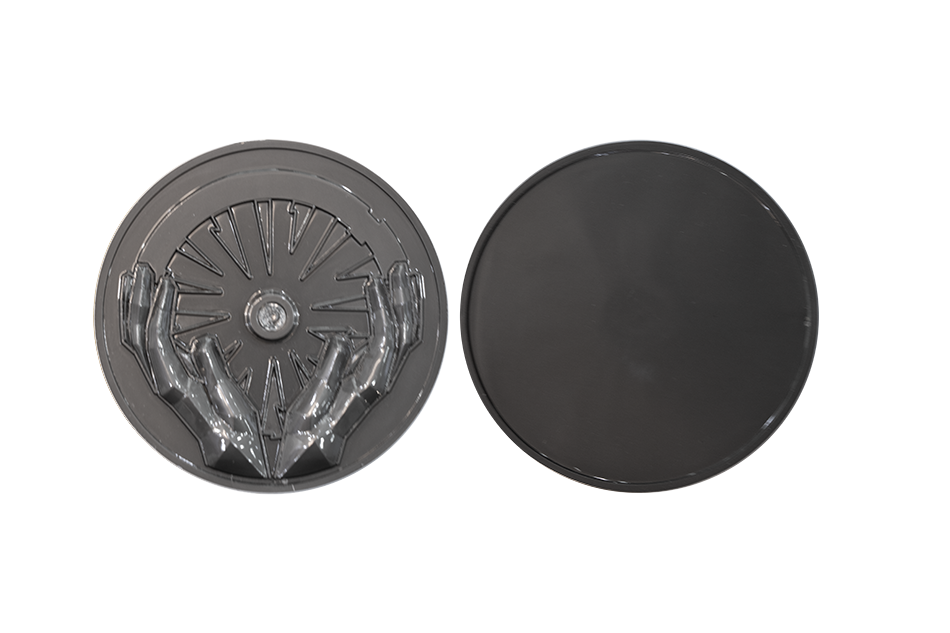 We love working with black nickel as it is a versatile metal and can have a completely different look. So, when polished, black nickel will appear glossy and have a rather grayish than black color. If you give it a matte finish, it will have a deep ebony color. This is where our team of coin designers can help you navigate. They will advise towards the go-to finish. The qualified specialist will help you choose which of the finishes, polished or matte black nickel plating, reveal the potential of your coin design to the fullest.
Attractive Contrasts: Black and Gold Coins
When it comes to black coins with multifaceted nickel plating, we can't help but tell you about dual plating. Here, we combine our favorite dark metal with pure 24K gold. This is one of the most interesting and sophisticated bi-metal plating options we offer. Together, noble gold and stylish nickel create an incredibly dynamic couple. The embossed elements of the coin design, when covered with gold, look even more impressive on the black background. The dark cold color of nickel perfectly sets off the bright warm glow of gold. More exquisite custom black coins than these are hard to find! Whatever occasion you order these super stylish individual medals for, the receiver will immediately fall in love with them.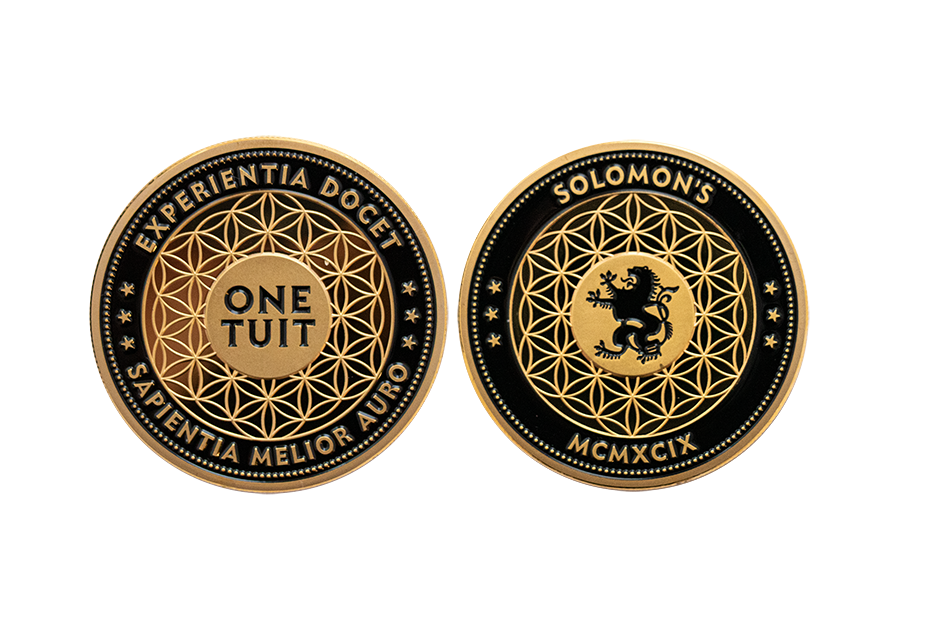 Coin USA is constantly working to ensure that our product meets all, even the most complex requirements. By cooperating with us, you can get the highest-class black coins, not only embossed with your fully customized design but also in the size of your choice. Our team is ready to mint medals for you in dimensions ranging from 10 to 250 mm.
Enamel Makes Your Personal Black Coins Glossy
After introducing you to the various possibilities to customize coins with black nickel plating, let us have a closer look at more intense colors on coins. Black enamel color gives your personalized coins a powerful and exquisite aspect.
If it fits your custom coin design, we can cover all recessed areas with black enamel. The result is coins with highly contrasting colors. Both hard and soft enamel playfully shine in the sun. They fascinate and allow the coin to emphasize its unprecedented elegance and sophistication. Black soft enamel wraps around the embossed metal structure, stressing its texture and making it look alive. Hard enamel completely fills the recessed areas and gives individual black coins a solid and respectable appearance. Hard enamel is often the option for custom challenge coins of units of the Armed Forced.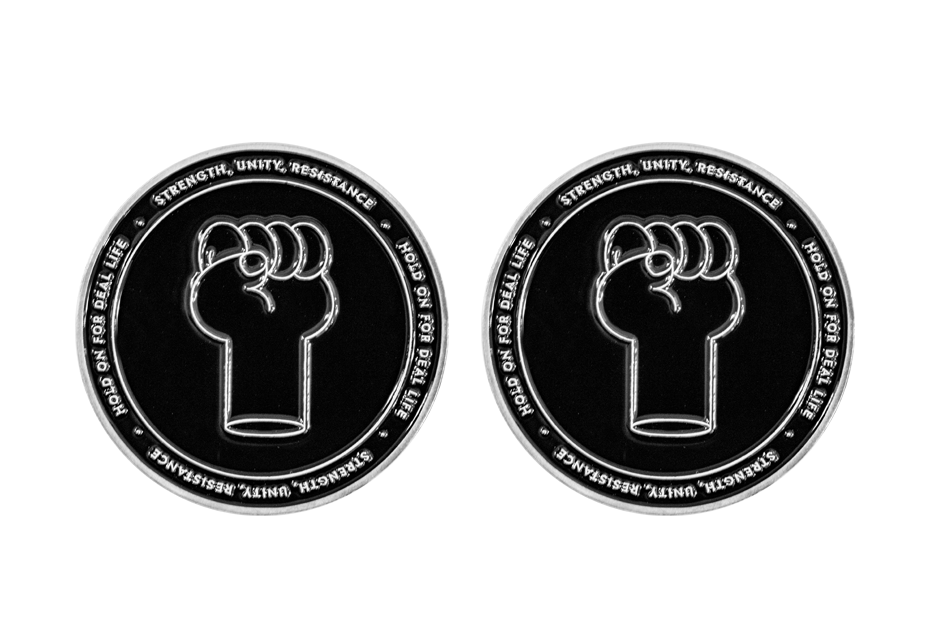 Customized black coins certainly look amazing, but even a diamond needs a decent cut to shine with beauty in full. Pick up fitting coin packaging or coin displays for your custom medals simply by clicking here.
Do You Only Need One Black Coin with Your Design?
Both the black nickel plated and black enamel-colored coins, described above scale with rising quantity. When we emboss your design, single coins come off relatively pricy due to the production of your custom coin die. Coin USA can manufacture your black coins on a budget: by printing your custom design on a pre-made coin round. The color print on a coin is protected from external impacts through a shielding epoxy dome. That way, your cool black coin will last long, even if consistently carried around as an ebony-colored keepsake.
Stunning Replica Coins in Black
Our customers regularly ask us to replicate historic coins already in their vintage look; meaning in irregular shape and with the characteristic dark shade. Generally, the reasons to buy and use custom coins are countless. In the case of blackish replica coins, we often work for artsy productions remembering the old days in a movie, TV show or theater play.
To produce those pieces, we usually work on the core metal with acids that provoke oxidation. You may have already seen the effect on your silverware or fine silver jewelry that reacts with air. We can accelerate this process to give your custom black coins the appealing historic look of replicas.
Whenever It's About Custom Black Coins, Turn to Coin USA!
As you can see, medals in black are extremely diverse and, literally, everyone can choose the type that suits them best. Contact us now and our account managers are happy to guide you through your custom coin project!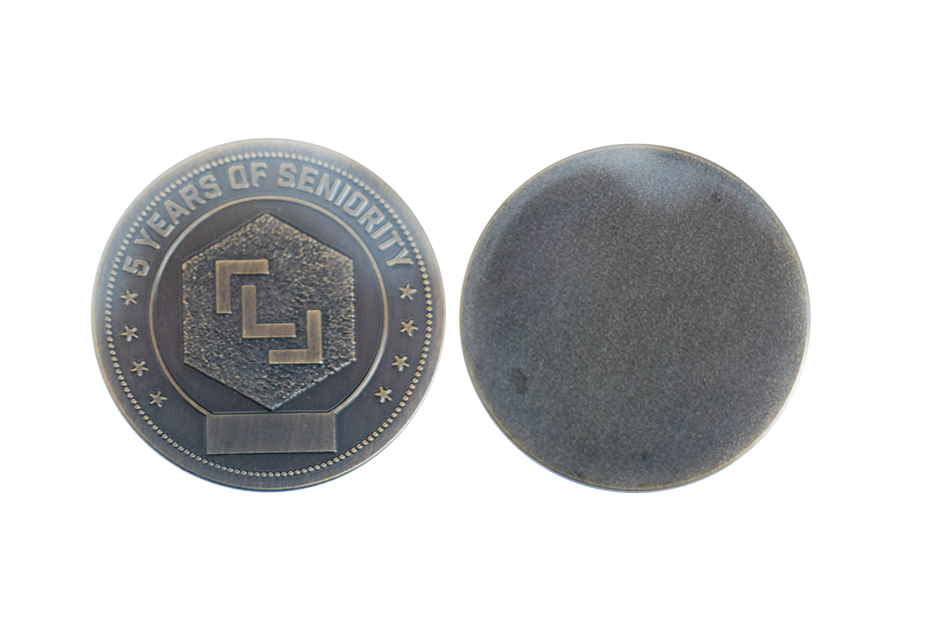 Disclaimer: Our products on this page are known as "Coins" in order to comply with general linguistic usage. It should be expressly pointed out that it concerns, however, individually embossed medals and no current or former means of payment/currency.